Biaga and SP

Beez Neez
Skipper and First Mate Millard (Big Bear and Pepe)
Tue 27 Mar 2012 22:47
Biaga and Small Person in Saltram Woods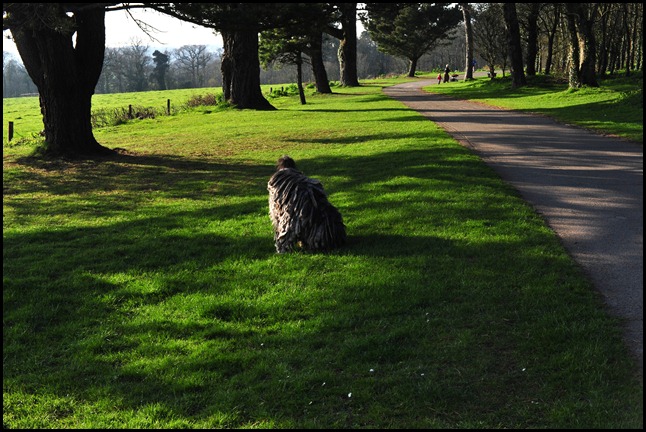 I managed to keep my head down and be in the right place to avoid the "fresh air" walks since the Bigbury outing. This evening I got caught. The Sister Hattie Jacques bellow - "You'll be pleased you did it" echoed through the house. Lol stuck his head in the Daily Mail and chuckled knowingly.
Armed with the statutory supply of tissues, Strepsils and the smallest amount of stamina, I had no choice but to meekly climb into the car, quickly followed I might add, by Bear proclaiming, I should be let off as I'm not sick, I was just about to read the Evening Herald, make a cup of tea for Lol, order a part on Amazon, peel an orange, sort out my ring tone, tidy one of our cases.................. his voice trailed as he caught the steely glare of Moth – in other words - Tough, Hattie was on the case and no deserters were going to be stood for.
"We are only going to do half an hour in Saltram Woods."
Yes Moth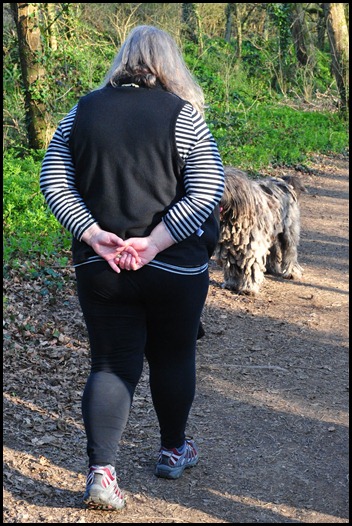 Oberfuhrer Hattie in the No Nonsense position. If she carried a whip I really think Bear would be afraid. We both leapt to attention when firmly ordered for "A Bear in the woods pose."
Bear got his back into stick throwing, still chuntering about not having to be there, didn't bother Biaga one bit
Between racks of coughing, I was rather pleased to get Small Person not only going for a stick, but bringing it back – she is settling, not quite as terrified –
not like the rest of us
Biaga got a look of mischief on her face
bounded after Small Person
......... and got stuck in to a play fight
Soon it was time to go home – no argument from me. I still think fresh air is overrated
A final run round the garden for the animals as Bear wisely slid in to pour the Bailey's.
ALL IN ALL NEXT TIME I'M GETTING A SICK NOTE
---