Beez Haul 2014

Beez Neez now Chy Whella
Big Bear and Pepe Millard
Thu 30 Jan 2014 23:57
Beez Out of the Water for a Well Earned Rest
At eight this morning we were quietly motoring toward Ashby's Boatyard, next to Opua Marina, for our eight thirty haul. We passed by an elderly classic and a working girl passed us – this lady is the mooring ball maintenance vessel. Quite dark here until the sun comes up.
At the back of Beez there am I playing at sailing on the spot. At the front a really grubby Baby Beez, all that slime has happily found a home on her bottom in the six weeks we have been here in Opua.
There was a lady in the sling, Afia of Luxembourg, we clearly had to wait a while.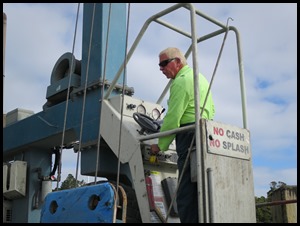 In we went, Pete on the crane (clutching a printout of Beez bottom to get her perfectly secure), in seconds he tightened the slings. We assumed at this point a ladder would appear and we would stand by and watch as we have done on previous hauls. Nick, the yard manager came out of his office to check on the girl, thumbs up to Pete and up we went. The skipper had a wooden smile and I was not looking forward to stopping at the top as I knew we would swing like a pendulum. I have had this experience in Sopromar, Portugal and needed a stiff libation at the end of it..........
This time, it seemed, that it was all over in a flash. We trundled at speed, passing the yard office and coming to a stop, a bit of a waggle – Ooooooooooo and lowered a bit, next to the short stay lot. They use this area for boats coming out for just a few days.
A ladder appeared and down we went. Within seconds Mo (Moses) was at the girl with his pressure washer. Considering Beez last haul was in Deltaville on the 8th of August 2011, she didn't look too bad. Slimy like Baby Beez from her stay here.
The deceased bow thruster looked very poorly, but five minutes under the ministrations of Mo and it looked so much better. Time will tell when Bear strips it out as to whether it can be resuscitated. The propeller looks a little worse for wear, a fair few barnacles had hitched a ride.
Mo finished and off Beez went toward the far end of long stay. Pete expertly took the narrow corner and we followed as we passed a few ladies we recognised, including Almacantar (last seen in Tonga).
A nifty three point turn, Beez was gently put into her cradle. The boys adjusting for a perfect fit. A relaxed Pete and a relieved Bear.
Skipper set about rigging a bilge pump in a sandwich box the other day...........don't ask I didn't. Apparently once settled in a bucket of water I get to keep my main fridge running. If it works I will be a very happy Mistress of the Galley. Watch this space.......... A few false starts and Hey Presto, it works.
ALL IN ALL QUITE SETTLED
---