Another Week On

Beez Neez
Skipper and First Mate Millard (Big Bear and Pepe)
Sun 16 Feb 2014 23:57
A Little Further On As Another Week Flies By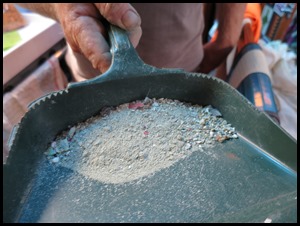 The week began with not a bad view. All that was left of my poor bow thruster motor. A skipper who is on a promise to try NOT to get into trouble through clumsiness, walking into wet varnish and generally causing my wrath to raise its testy head. I am serious about trying, really............. Yes dear and don't let me hear Arrrr from you lot out there.
Work stopped at various times as interesting vehicles appeared, the first one reminded me of Thunderbird Two. It was ever so funny watching it coming down the street, a person appeared from the wheelhouse, just like he was at sea. This little lady was having her mast stepped as Rikki was causing consternation as a lorry disappeared with the keel bulb, removed after a mountain of a man took a club hammer to it, leaving the boatyard boys to worry about stability in a blow.
Finally a from this to this event.
OK so the other side of the room still needs a 'little work required'. Note the vase from last weeks peace offering is still there. I will be so pleased when the flowers have been filed..........One of the ladies in the office fell about when I related the tale of its appearance on Beez, guess who will be awarded with it next week.......... Russell, my new best friend has finally come up with enough information (many photographs sent, measurements and descriptive emails later) to order my new blinds, hence the hole below the hatch. We both like the low relief lighting effect taken on by the fairy lights. Can you believe that silly little job took all afternoon. All the head lining was taken down in the morning, the strips varnished. All the bits were scrubbed and the buttons that cover the screws, up it all went – does it look any different – NO, not that you would notice, but like many things, you only notice if said thing looks dirty or damaged. In fact, does all the varnishing make the lounge look any different, no.
Within seconds of me saying come and see, 'you know who' was seen test driving the finished look. Bear took the decision to cull half the cushions – steady. Is that your drink on the table.................Yes.....................and don't forget who is your captain, lord and master. Only because I say you can and I'm too tired to argue. Talking of tired, I recorded a couple of the greater snoring moments this week. I jingled my bangle during one piece so as to prove I hadn't digitally enhanced the noise. One backfired as himself suddenly turned over and clattered his head on the camera, I fell about laughing, no more sleep, then. Grrrrrrrrrrrr. Don't you growl at me.
OK so I joined in with a celebratory libation or three. Bear put a new battery in our 'most gopping purchase in New York', but it's so bad it's great and much loved, much giggling when I switched it on to test drive the new batters. As darkness fell, there we were, unmoved, still unshowered, but chillin' to my music. I finally got my IPod out, as I couldn't take any more of a certain persons eclectic mix......I don't mind one or two of the songs from Hair, but all of them.........., I got fed up with finding the remote, not always an easy task.................., to make it jump to the next track and as for sixty six tracks of Marianne Faithful, where are my cocktail sticks.......... Thank heavens, I have five hundred and forty one favourites and they are all good, that will keep me going for a few days.
During the lounge "putting back together process", Bear cleaned the table legs. I've always thought they looked too utility and rather ugly. Idea. Make some booties out of some carpet off-cuts. So what did wing nut do ???, straight on his head – OK so they won't be on special any time soon in Harrods, but, I think they look quite cute. Yes dear. Looking at this picture, I need to give you a lawn cut, you are beginning to look a bit too fluffy – like Father Time. Yes dear.
I had a radical moment – I took our toilet door off. Every time Bear walks into our bedroom he clatters the en suite door. It folds back into the bedroom and its edge has always been in the way. The number of times I have rushed out – usually because 'you know who' has got into mischief and called for help – I have stopped short with a sleeve caught on the handle. Anyway, flushed with my success, I took the sea berth toilet door and the office door off as well. Just need to find somewhere I can hide them. Mmmmmm.
It's quite alarming. There I was, standing doing a bit of washing up, when the crane passes extremely close by Beez. New neighbour then......
I could smell the skipper was painting his 'office'. Oh dear and himself by the dollop on his left hip and waistband of his trousers.............I think his head torch is in fear of becoming permanently attached. Hey, but look, my new beast. Thank you Bear. Look at my bright, shiny, new bow thruster, all fitted except for the battery. Now that is exciting. Most women get a bunch of flowers, a romantic night out for Valentine's Day, what do I get.............
This morning the skipper had an egg event. A fairly poor picture as he was laughing so much, he was wiggling his tray. In the last couple of days we finished watching The Closer. Now on to Damages, just how much skull and duggery can each episode fit in......... Wonder what will get finished this coming week. Well, I just looked through my eight page job list and sadly, haven't ticked anything off. Mmmmm.
.
ALL IN ALL BETTER BEHAVIOUR FROM WING NUT
MOVING SMOOTHLY ON THEN........
---