Porto day trip

Beez Neez
Skipper and First Mate Millard (Big Bear and Pepe)
Sat 16 Aug 2008 20:42
Porto
Porto or in English Oporto is an amazing place to visit, it is the second largest city in Portugal. From Povoa it cost each of us four Euros forty return for the 29 stops to reach Trindade (Trinidad is that)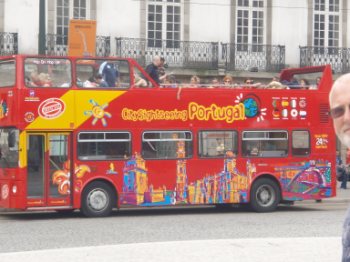 As soon as we arrived we saw the red bus, the last time we were on one was with Adam and Jenny to look round Cadiz and Seville. They are great, hop on, hop off and earphones to listen to the commentary of the various sights. We saw a tram and then a look at Porto as we crossed the 240 meter high steel bridge linking Vila Nova de Gaia, the port production, blending and trading area of Porto. Never have we seen so many eateries of so many nationalities, with so many varied foods and price ranges ANYWHERE we have ever been before. (Pity we didn't have the time to try them all out).
The impressive bridge has the metro link on the top layer. The Sandeman or as I prefer to call him "The Bloke with the Cloak". The bus had to go up this street with little space on either side to show us the port warehouses.
At the top of the hill was a very new looking town with this impressive department store called El Corte Ingles. A sub terrainian car park with 7 stories of shop before you see the six above ground. The view of Porto from the top of Gaia and the Metro on the top layer of the bridge.
There was a vernacular on the Porto side. This posh BMW looks out of place on this scruffy street. We particularly like it as the lower sign on the right depicts a snail speed. Bear on another skinny street.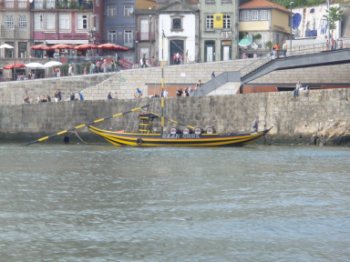 In memory of the combined years Alex and Kate worked during their studies at Pizza Hut, we found this one and had lunch with a Portugese wine before taking one of the river Douro boat trips on one of the classically shaped port delivery boats. We even saw one painted the colours of Beez, a thing we now have to keep an eye out for.
A helipad looks out of place on the pontoon. A view of all the bridges across the river with the metro on the top. Just a few supports for this house midst renovation, the lady next door has a little to be worried about.
We wandered about this top floor flat, for sale as is. It may have something to do with the modern art feature on the house opposite, if she ever fell ..........................
COMMENT: BEAR. When we got on the metro home it was crowded with no seats available, Bear pointed one out to me and told me to "jump in it" so pleased I looked before I jumped, I could have caused serious injury to the very little boy in it, Bear answered "well he shouldn't be in it then".
All in all a very different day out and not to be missed.
---