Cemetery Party

Beez Neez now Chy Whella
Big Bear and Pepe Millard
Thu 1 Nov 2012 20:37
November the First – A Day with the Ancestors and Loved Ones
We traveled to Sumpango for the kite festival, but the day would not have complete without a visit to the big cemetery to be among the real reason for the day. Walking down the hill we soon saw just how many people were spending the day with their loved ones. As soon as we stepped through the gates the flowers, decorated graves and sheer colour hit us.
Children of all ages played while the older ones helped parents and grandparents place petals. I had thought the couple on the right may be sad but when we passed by they were laughing and joking – so full of joy.
From the wealthier family plots......
.... to the humblest single grave and the impromptu flower pot – great care had been taken
This elderly lady had given her husband his favourite glass of coke and was now sharing her Sprite with him. She smiled happily as she shared her story.
Little ones with a very different launch pad for their kites
Lunch time sees favourite foods shared, a real party atmosphere that lasts all day, very often all night, in fact all weekend.
Everyone was so welcoming to us.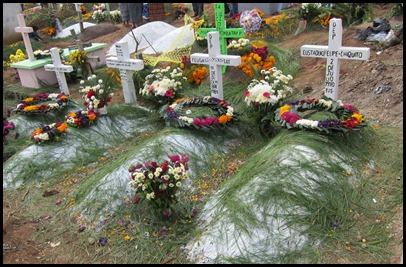 A very moving interlude but in no way a sad one.
ALL IN ALL LOVELY TO SEE ALL AGES TOGETHER IN REMEMBRANCE
---