Pioneer Cemetery

Beez Neez now Chy Whella
Big Bear and Pepe Millard
Tue 26 Jan 2016 23:57
Pioneer Cemetery, Zeehan, Tasmania
We had just passed the turning for the town centre, outbound from Zeehan, when we saw the sign to the Pioneer Cemetery. Time for a historic bimble mongst the old gravestones. No sooner than we had left Mabel than there were one or two horseflies about us.
A huge area to explore.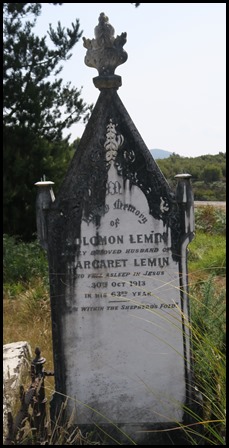 Some in better condition than others.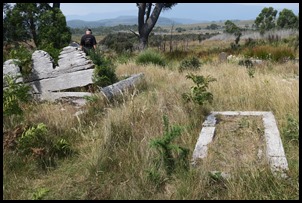 Some beyond help.
Father and son.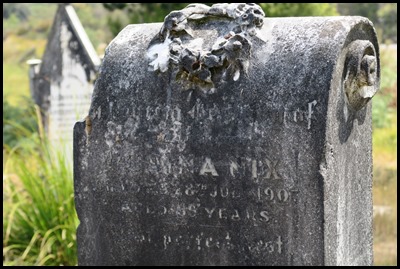 The one or two horseflies had alerted some of their friends and many more joined us........as we read the old headstones.
A helicopter was dropping his bucket just behind us, many journeys to and fro, bushfires nearby.
Swotting as we go.
Ruby 1887 – 1918, had a replacement plaque.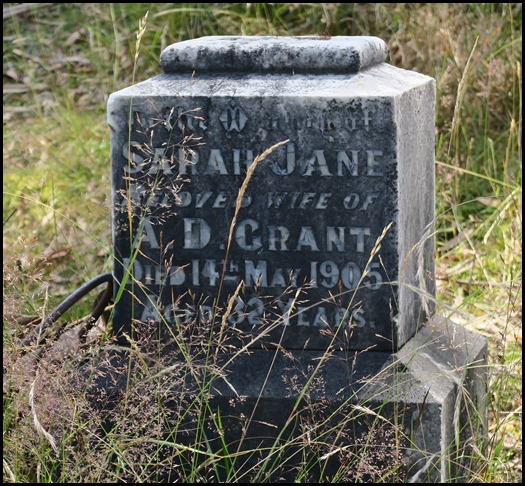 We saw a couple of people who had drowned, accidents, young people.
Such poor condition. Later, I would look up the cemetery. In 2012 there had been a real surge of enthusiasm in the papers and funding mentioned for restoring the site, clearly this did not come about. We saw some really old stones, some in very good condition for their age. Some from the pioneering days.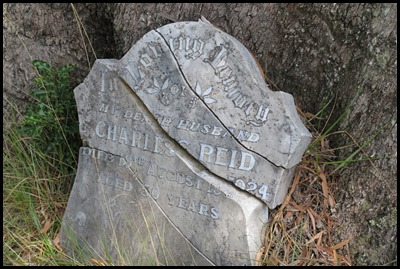 Charles Reid leans broken against a tree. Now the horsefly nation came to buzz us, enough was enough.
Alice, a lovely lady by all accounts, was to be my last. A cloud of horseflies made things intolerable, Mabel looked like a welcome beacon and we both ran for it. Twenty got in with us despite tactics of one door open at a time and Bear brushing me off before I snuck in. Frantic flapping of pamphlets dispatched the beasts. Our tally of stabs – three for Bear, two for me. Unlike mosquitos these blunt-cocktail-stick-wielding-stabbers don't seem to deterred by his fur.
ALL IN ALL SUCH A SHAME
A SURPRISING FIND SAD ABOUT THE CONDITION
---