Chagos to Madagascar - Journey Pictures

Beez Neez
Skipper and First Mate Millard (Big Bear and Pepe)
Mon 22 Jul 2019 23:47
Chagos to Madagascar - Journey Pictures
Friday the 12th of July. Our last look at our special beach on South Fouquet (Pepe's Island to the right).
Our final look at Pepe's (left) and Bear's Island.
After saying farewell to Little Man Pooper and Bye Bye to Bobby, the anchor came up at 11:30, we were out through the Pass at 12, looking back at three of the Salomon Islands – our home for the past four weeks. Main up, genoa out and engine off at 12:30. Mixed wind and swell, steady by 18:00, 11 knots, speed 4.4 knots.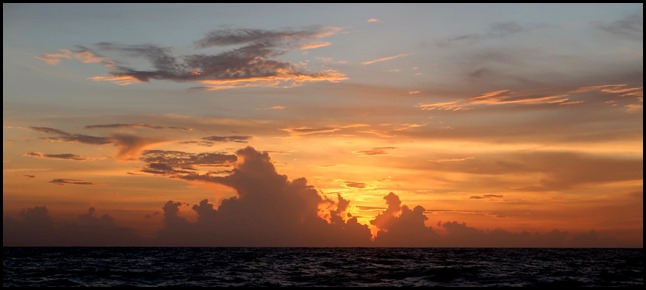 A pretty sunset, lightning in the cloud for several hours.
Saturday the 13th of July. Settling into life at sea. SSE wind average 16 to 18 knots and ESS swell. Side waves a bit of a pain every so often. No rain – YAY. 142 nautical miles until 10:00 this morning. Bear put a reef in the main at 11:00. A little sunshine. Bear didn't fancy supper so I left him to his tuck box. Sleep not a problem.
Sunday the 14th of July. One mahoosive wave went over the roof of the conservatory, landed on Bear's side and poured in, everything very wet. Very rude. Rain and leaning to the right. 164 nmiles in the last 24 hours.
Just before dusk I saw a dolphin, thought it may be a figment or the way the swell cut, until I saw him again. Sunset. From 22:00 really lovely conditions.
Monday the 15th of July. 156.4 nmiles in the last 24 hours. A heavy day. Rough sea big gusts. At 18:00 Bear crawled out to put a second reef in the main. Still smiling though.
Tuesday the 16th of July. 160.1 nmiles in the last 24 hours. A very, very heavy day. Gusts to 32 knots. 10:00 - I had just got up and fell between the door and settee taking out the dining room table. This same mahoosive wave took off the pole and solar panel from the starboard side, the top half of the dodger but Bear managed to lash everything down. Later, Bear snipped the wires and sealed them, and we settled the solar panel in the lounge against the leaning table.......enough for one day – no, more to come. Bear had just enjoyed a corned beef wrap (last of the cucumber) when he set to altering the genoa sheet and fell on a wave. Top of forehead, cut, weight across forehead (hurt most) and glasses smashed into bridge of nose. Thankfully, his glasses didn't break which was my fear. One can say the skipper did a bit of a number on himself. Gusts to 38 knots. The skipper managed to sleep but too uncomfortable to lie on his left side. Overnight not too bad.
Wednesday the 17th of July. At 05:40 Bear went out to get the main down. He crawled past the missing top bar, sitting to undue the lazyjack straps as he went. He went to settle before the granny bar and slipped. I leapt up to see he was sitting on the deck – phew – fast prayers. I lost ten years of life in that second. Once back in the cockpit I breathed huge sighs of relief. 10:00 163.5 nm completed in the last 24 hours.
12:15 a massive wave rushed through the back door. 13:30 we made it to the gap in the Mascarene Bank and watched as a big girl skirted the shallow to the south of us.
Mr. Dickinson (heater) is really not my friend. His chimney is leaking badly and the lean of the girl has water seeping toward the settee through the lounge ceiling panel. I found Wayne (big wombat) has a wet back left hoof, my calendar and pencil case damp. Leaning the other way, water seeps toward the kitchen cupboards. Note to self, castrate Mr.Dickinson with duct tape, a bin liner and more duct tape........
So difficult to get decent pictures of a big sea. We had pits between swell banks 7 metres deep and the same sized peaks beside us. The water was a gorgeous blue.
Still smiling before deep sleep and the odd snore. Why do I put in so many pictures of Bear asleep – to see him beside me in the cockpit during the day is a sort of comfort, although the snore that wakes him often makes me jump.......I do like him to go to bed proper from two until six but if I have any concerns that conditions are bad and likely to change, he stays out beside me. Bless him.
Thursday the 18th of July. 150.9 nautical miles in the last twenty four hours. Cheeky rainstorm at 13:00, rain heavy, Beez did 10.4 knots for a second or two as gusts reached 32 knots. All over in five minutes (thank heavens), the wind settled between 17-20 knots. Our average speed settled at six and a bit. Big Bear enjoyed mutton biryani for supper.
Friday the 19th of July. 157.1 nm in the last 24 hours. This morning we had a steadier sea wind 17-20 knots. Overnight we had hard, hard rain for many hours which served to have 'ironed' out the surface, although still an ominous dark blue/grey. Bear found that Echo Park on his Kobo was in Spanish, I promised to replace it once we get settled and checked in at Hellville. He went on to the next book in his Harry Bosch list – The Overlook, a much shorter book.....by 14:00 he had begun Last Verdict. Over the past few days I have rediscovered Free Cell, had to watch the demo to see how to play it, the four spaces at the top left as manoeuvring docks. 16:00 We actually saw a chum, Bahri Grain. We would see her..............
.....then she would disappear.
Ooo, no chance of seeing her again in these waves.
Saturday the 20th of July. I woke to a steady 10-15 knots. 139 nm. Side roll comfortable. Genoa out from three reefs to full stretch. All well on board.
Sunday the 21st of July. Wind between 5 and 10 knots. Steady low wind on a gentle sea. 18:00 ninety-nine nmiles to go to the top. Bear ate korma and rice. I ate my last apple. Situation 'normal' as the skipper rests – make that snore his whatsits off. 20:00 Lots and lots of rain. 22:00 birds arguing on who sits where on the solar panel.
Monday the 22nd of July. Bear told me that no sooner than I had gone to bed at six with twenty-five miles to get 'to the top' than the girl sensed the Cap d'Ambre and went for it. One gust to 17 knots, steady at 10-15 knots and the girl sped up to eight knots. UNBELIEVABLE. I get up early so we can go around the cape as a team and no sooner than I get settled to take pictures Bear slipped and head-butted the very same winch that caused his facial clouts, yet another wound. I threatened him with having to wear a hard hat in the future.
At 09:30 we could clearly see the mainland of Madagascar. At 09:40 we dropped from - - - to 130 metres and steadily dropping in depth.
We had raced – under engine – to get to this point, the Cape by daybreak. Our window was six hours after which the wind was predicted to rise between 25 and 30 knots. This journey has been a very. very mixed bag. The first half swept into to top five worst but for damage to Beez Neez ranks number one. The second half has been quite pleasant save for having to monitor the leaks........
The Cape lighthouse.
Our first glimpse of Cap d'Ambre.
At 10:10 we had passed the first promontory and were heading for the second pointy bit.
ALL IN ALL A VERY LUMPY FIRST HALF
GREAT SAIL, BUT MULTIDIRECTIONAL WAVES WERE DAMAGING
---