OCO's of Tahiti

Beez Neez now Chy Whella
Big Bear and Pepe Millard
Wed 21 Aug 2013 22:57
The One Careful Owners of Tahiti
When we share a hire car with others, I try to resist the urge to call out "One Careful Owner" (OCO). Stopping for a supposed photo opportunity, the other passengers see me leap out and snap away at some wreck or other just reinforces my reputation for lunacy. Today, after no pickings at all in Papeete, I had let one delightful car pass me by and a JCB working in a river bed. This lady broke my vow of OCO celibacy as Bear (very used to stopping, slowing or three-point-turning for me as he drives along), executed a neat u-turn for me. I trotted down a bank, slipped round a wall and there she was in all her glory. I left Bear explaining to Dave what it's all about.
I feel she may even reach the quarter finals without too much effort, if only for the corrugated iron dodgers.
I actually snuck this submerged dinghy at the marina earlier, but hadn't let on to Dave, I had hoped it may sate my needs.
Now that it was all out in the open, I chanced another OCO call. A house with sea views, near the beach.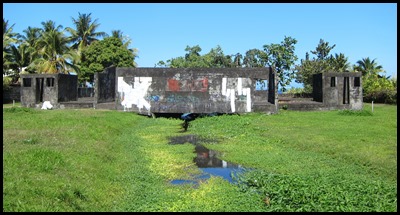 After admiring the water feature or mossie breeding station, we all agreed that estate agents may use words like 'in need of sympathetic remodeling'. Another example almost opposite.
Imagine my delight minutes later when we saw a Presbyterian Temple closed for renovation. Had it not fell under the protective arm of funding, this would easily be our first carefully owned church in a goodly while. The Planning Permission was granted two years ago and we could already see the signs of repair.
No sooner than we had gone a few minutes down the road from the botanical gardens than this island rarity appeared.
The classic entry requirements of foliage and rust to a high standard. Bear was particularly pleased to see the T had fallen off her name.
We felt the potential for a new category with this little chap. "Best OCO with stunning backdrop". Well that will be for Bear to decide on New Year's Eve as he is the senior judge and therefore responsible for writing the section listing.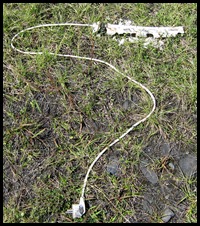 Speaking of new categories ?? Household goods ?? – this adapter plug was interesting.
Perhaps this chap may make it to the quarters for this backdrop ???
Foliage ticks the box – just but very poor quality rust.
After the fortification of our soft, imitation Cornetto, Dave suddenly swung into action. "There" he called "Can we enter a trailer". Bear had pulled in at this point, rubbed his beard and considered for a moment or two. Yes, why not, said the senior judge. Off I scampered for the photographs.
Well, what can I say – was once wheeled, now has foliage and rust. Yes I agree, a new listing.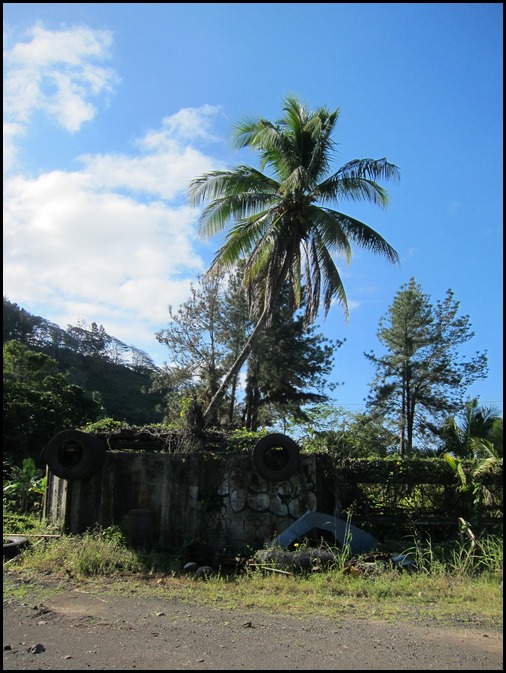 A few miles later and Dave thought he had surpassed anything we had ever seen before. A chap upside-down.
Sadly, although it is a OC owned house that somebody has lovingly embellished with wheels ??? We'll see. We drove past a man sitting outside his fairly rough house but his view was second to none. Dave suggested we look for new entries into 'Shack with a view". Most definitely worth the effort. Well done, so impressed was Bear he reckons that if we are anywhere near Alexes in December that Dave should be sworn in as an honorary judge. Praise indeed.
Nearby was our last beauty of the day.
ALL IN ALL VERY, VERY SATISFIED
SPLENDID, WHAT A HIGH STANDARD
---