Lumbini Bimble

Beez Neez now Chy Whella
Big Bear and Pepe Millard
Thu 12 Apr 2018 22:57
Lumbini Bimble
Sunrise this morning and later a really good breakfast.
Life below at full-swing......
The bus station simply made us grateful that we have a car coming for us for our next leg to Bardia. Around the corner, all brightness in mostly red.
Piles spring up overnight.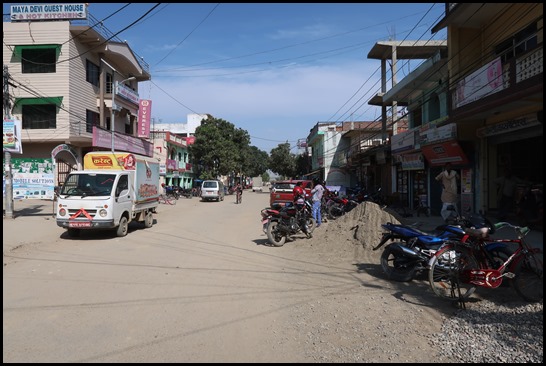 Even on the 'high street' piles appear.
Push bikes work hard but not as hard as tuk tuks and motorbikes are seen as limitless in capability.
Bear settled to a light lunch of mo mo, little packets of flour with veggie and in this case chicken served with a dangerous sauce. They can be fried or boiled and are incredibly cheap, therefore popular.
Just then, the waiter watered the street to reduce the dust.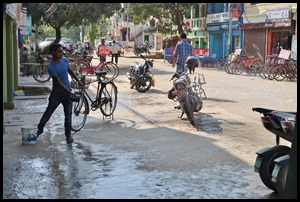 A chain reaction as next door did it too.
Off we set.
Asked if we would care to lookie-look in a shop, I graciously declined.
We could have hired a bike for the whole day at just a pound, that will be a firm no, thank you.
Back at the bus station, Bear shot to the right, I need to buy Coke, I need a stiff drink. Time to move on then. Ooooo YES.........
ALL IN ALL JUST AS WELL BUDDHA WAS BORN HERE.............
FEELS LIKE A STRANGE EXPERIENCE OF A TOWN
---