Lunker Master

Beez Neez
Skipper and First Mate Millard (Big Bear and Pepe)
Wed 25 May 2011 22:33
Return to Hoople and the Lunker Master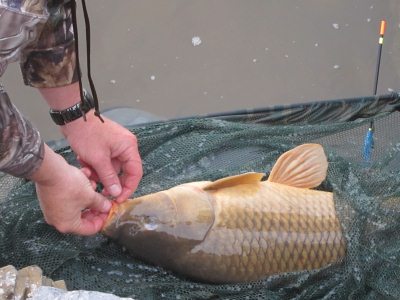 We were delivered to Hoople by Jason (the Carp Whisperer) at six thirty. Jeff had gone out earlier for a quick session on the 'rocks' - the next swim along from ours. Jason had been asked to bring a camera, we knew that meant something special so we went for a look. In the 'strap purse' keep safe was a beauty weighing in at a hefty thirty three pounds. As Jason was setting up to take pictures we watched the Master bring in yet another weighty specimen. Accuracy of casting and good bait placement are the lessons to be learned, we reveled in just watching. Jeff wanted to get some new photos for the website and asked if we wanted to bring the latest in "No, we want to watch and learn". All too soon it was time for a picture before we got down to the business of the day.
My first little boy was a handsome eighteen and a half pound mirror.
From time to time we looked over to see how the Lunker Master was doing - just visible under the electric pole
A while later Jason was called once more to take shots of Jeff and his thirty seven pounder
We had a smashing day and into a calm evening - marvellous
Thrilled and her mate.......................
Today Bear caught 2 (14 and 16 pounders) - Pepe caught 8 (12 to 27 pounders).... but the last picture of this blog must go to the Lunker Master and his 33 pounder
ALL IN ALL SLOWLY FINDING THE ZONE
CHALLENGING DAY FOR A BEAR
---