Parque das Dunas

Beez Neez
Skipper and First Mate Millard (Big Bear and Pepe)
Thu 25 Dec 2008 23:24
Parque das Dunas Hotel.
It is New Year back at Beez Neez so I have asked skipper - by way of a change, to write this blog about the few days we spent on Boa Vista at this charming hotel. We were full board, this turned out to be a bit too much in the way of food, no sooner we finished breakfast than it was time for lunch. Similar come dinner time.
Bear sitting on our balcony, the pool, Carlitos - one of the waiters (I thought looked like a young Marvin Gaye and fantasised about him wearing baby oil). The hotel from the beach.
Us on our Christmas morning stroll along the beach.
We celebrated our first ever Christmas away from home - and in the tropics !!! at The Parque das Dunas Hotel complex. We had a quarter of a terraced bungalow, about thirty yards from the beach and fifty yards from the pool, bar and dining area. Full cooked breakfast outside on Christmas morning, a walk along the beach, slack by the pool and swim in the sea, total decadence in twenty five degree heat. When the bungalows were originally built ten years ago they cost £50,000 - now selling in the new build at the back of the hotel for £330,000. Twenty new bungalows and another pool are in-build now. They can be divided into four units of a bedroom and bathroom, a unit of two with connecting door or the whole thing. Those buying the new units have to rent half back for the hotel to use. If we were looking to invest, it would be on Boa Vista not Sal. Direct flights from the UK are becoming more popular.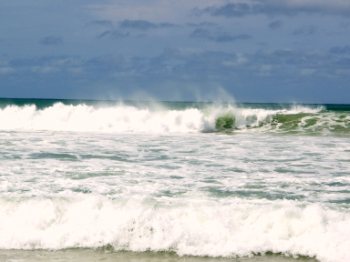 Bear revving up for his dip on Christmas afternoon, I was on life-guard duty, us and the sea angry on Boxing Day.
Emma and Emmy from Wales, Maureen and Malcolm from (as Jethro puts it - Gods waiting room) Bexhill on Sea, Sue and Tony from where my fathers side of the family come from - Stubbington in Hampshire, Dee from Clapham (her chap sadly had a broken leg and couldn't make the journey) and Paul holidaying and looking to invest.
The main celebration, as in Europe was on Christmas Eve, with a "feast"- buffet style, entertainment and cocktails.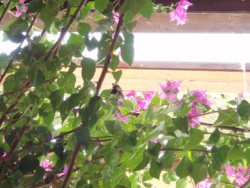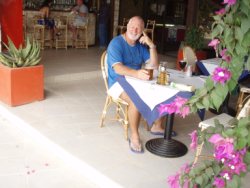 Flowers, wash day, a sparrow singing (we gave it bread every meal) and Bear deciding to feel slack over a pint.
The only real snag was the poor mobile/phone service, though email was reliable, but a queue for the only machine set up in the foyer. The only other snag was First Mate Millard, along with most of the other women drooling over Carlitos. That is jealousy for you. My real problem was the hundreds of Mosquitoes that pestered as soon as you sat down - inside or out. They didn't bite much, just annoyed. I had been warned by blogs I had read and took the old fashioned coils you burn, Jungle Spray repellent and Deet spray given to me by a couple who left before us. I only got a few bites, so not too bad.
All in all a first for us in a lovely setting, with easy going people - and truly gorgeous beaches.
---