Gala Dinner, Belitung

Beez Neez
Skipper and First Mate Millard (Big Bear and Pepe)
Tue 18 Oct 2016 22:57
Gala Dinner, Belitung
Sunset marked time to go in for the gala dinner and grand finale of our time in Belitung.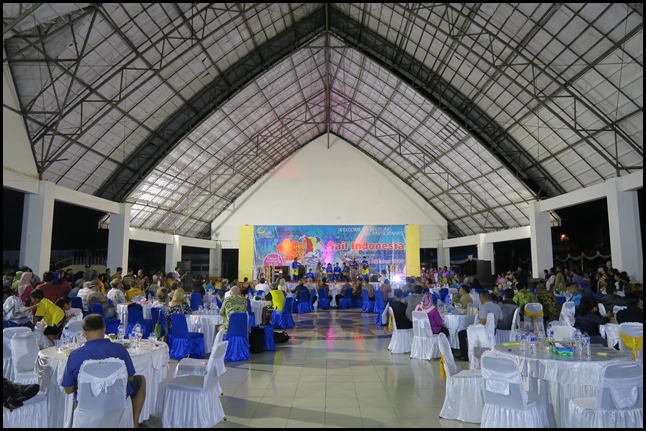 We all met in the bar and at seven were escorted to the purpose built theatre, beautifully laid out.
The main band were excellent – the lead singer sounded like Steve Perry.
Delicious dinner. There was a table set up to 'build your own soup' and the 'mains' table of which there were two. Vegetables, rice, beef, stuffed crab, fish, prawn crackers, pineapple and watermelon. On our table (Beez Neez, Hans and Burney (Brahminy Too) and Mark and Helen (Coomera)) was a plate of savoury rolls and sweet tarts. Then came a short speech of 'welcome' from the Regent translated by one of our guides. Mel replied with our thank you. We cannot get over our personal welcome by each of the other rally participants (Sail Indonesia as opposed to our Sail 2 Indonesia), officials and guides alike. Thank you all.
We settled............
.............to a local band and dancers.
Another band and dancers. We all were invited to sing Sailing and dance a bit.
I was privileged to pose with one of the groups of stunning ladies.
Correct position. Then I was asked to do an interview for a local radio station, no sooner than I had finished that than a local newspaper wanted to ask questions.
Above us the Hunter's Moon.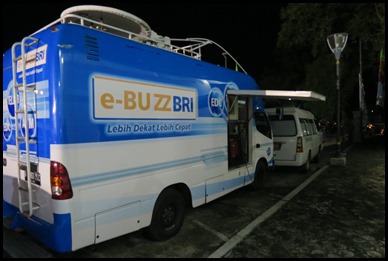 Several crews then went to explore together. Behind our venue was a thoughtfully placed mobile 'Hole in the Wall' for our use. The building beside housed a clinic set up for the rally with a dedicated doctor in situ. How touching is that. We had never ventured around the rest of the site, laid out with a stage complete with band, many stalls and curios. Belitung is a popular holiday and weekend destination for Indonesians especially the residents of Java and Jakarta.
Well another first, we couldn't get over this 'pretty' toilet van and all took its picture.
We never get too far without being asked to pose with all ages of people. Always happy to do it, but, sometimes the cheeks get a bit sore.
A shades stand and yet another first, a water feature set up by a stall on the beach.
The best fun to watch was a chap selling little metal boats. They were loaded, lit and began to chug.
ALL IN ALL SIMPLY THE BEST NIGHT IN INDONESIA
WONDERFUL, FRIENDLY, COLOURFUL – SIMPLY BRILLIANT
---