To Sakatia 2

Beez Neez now Chy Whella
Big Bear and Pepe Millard
Tue 27 Aug 2019 23:57
To Sakatia Island for the Second Time
Monday the 26th. This morning we went ashore to the usual busy, busy at the jetty.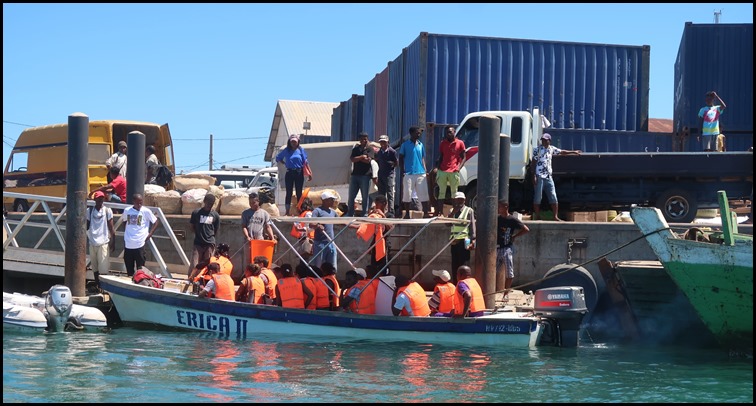 A quick bimble up to the supermarket, where Bear left me to nip off for a French stick for his lunch while I gathered some bits and bobs. Leaving an even busier jetty we waved to Jimmy (red cap, far left). It may sound silly but I always feel 'trapped' in Hellville Too much noise from anchored boats that clank, the early wake-up call from the veg man, the dog that barks in the early hours that wakes the birds who shout that wakes the cockerel who has no sense of time and boy, can he cock-a-doodle-do and the constant comings and goings. I can be on board for days anywhere else and never feel the same sense of..........well, I suppose the lack of sleep may have something to do with it. The skipper of course maintains his ability to sleep no matter what. Moan over.
Heading back to Beez, we feel sure this is a fairly 'unique to Madagascar' view – From the right, a local girl, a cruising yacht, a roll-on-roll-off, a high speed ferry, an elderly lady, a tour boat and a local fisherman.
The small but fast chap causes a few ripples...........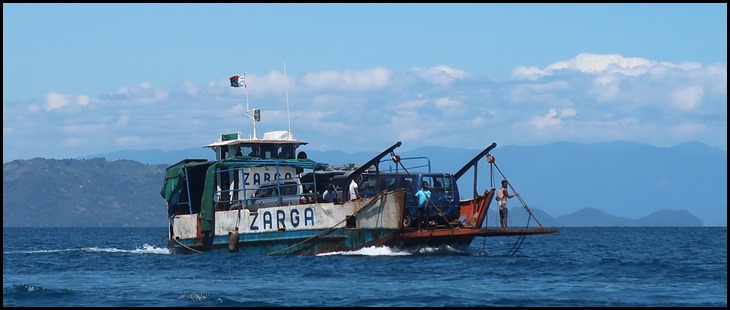 ..........not felt by Zarga who has her portrait painted on the wall up the hill.
Bear took down the yellow cover down, I put the shopping away and we set off at half past eleven. Lovely to be on the move but the wind and current is against us so it will be a slow plod under engine. Mystery of mysteries, Bear engaged the autopilot, we did a compass alignment circle and believe it or not – it worked, a fully functioning gizmo. Why it worked for three thousand miles, packed up and refused to play nice and now...... Going away from us a local looks lovely under full sail.
A local under tow.
How this chap is nipping along with a massive hole in his diddy main. So wish we carried a supply of tarpaulins we could hand over.
Nearing the corner – what a place to live.
A new build on the right. Shortly after I took this picture we turned right and we came to a grinding halt. Propeller juddering alarmingly Bear did some backward and forward motion, nothing. The wind was now in the right direction and once the genoa was out we sailed for the last three miles to the anchorage. Sail away I gingerly put some tiny revs forward and small reverse to set the anchor. Not fancying going under, we settled to play a couple of games before supper and White Collar.
Tuesday the 27th. For some unknown reason I was wide awake at two and sat in the cockpit with a good audiobook returning to bed at half past five, the morning just waking. Bear left me to a lie-in and put away all the detritus of his electrickery project on the solar panel wiring the went below.
After breakfast I braved a look at the damaged dodger (big wave on the trip from Chagos to Madagascar)and smartly packed it away again. This was a job for the big machine and I wasn't ready to saddle the beast up just yet.
Bear on the other hand had huge success. Donning snorkel and armed with his trusty knife – not needed as it happens – he unwound a live bait net from the propeller. Looks like someone's old net curtain. I was four nil up at backgammon when Bear did a Fowey Comeback to beat me five nil. Growling. Then after lunch he thrashed me at Mex Train. Needing a small achievement for the day I had him call out all the waypoints Des and Nell put on Noonsite for the safe hidey-holes near Bazaruto, Mozambique. These are in case we have to stop en route to Richards Bay if the weather window closes. Chartplotter fed, Puddytat came in to anchor, I radioed and an hour later David came over and spent the rest of the day.
ALL IN ALL PLEASED TO BE BACK
WIND, WAVES AND PROP BUT JUST A SHORT HOP
---