Train to Galle

Beez Neez
Skipper and First Mate Millard (Big Bear and Pepe)
Wed 13 Mar 2019 23:57
Train from Colombo to Galle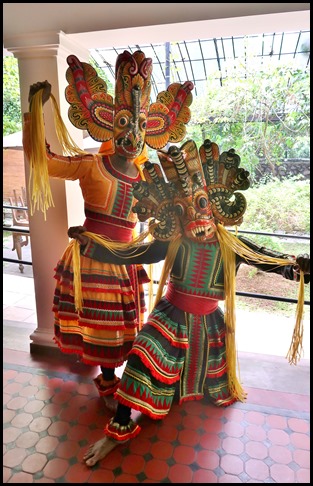 Kerri met us this morning for a coffee. We began at Sooriya Village but this interesting little place did not open for a couple of hours.
We sat near the pool in her complex and sadly, it was time to say 'farewell'.
Bimbling back to our digs I simply adored this cart.
We caught an Uber taxi through Colombo to Maradana Station, Bear's cunning plan. If we went to Colombo Fort Station we would be fighting to board the train with hundreds and hundreds of folk, OK if you have no luggage but......
We loved the train information board with swappable boards.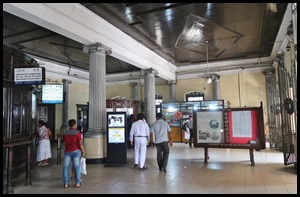 We left the ticketing part of the station, clutching our pound tickets, up the steps, over the lines (Bear had been told the "train was in" – a thing in Asia is for people to always seem knowledgeable....) and down to Platform Six. An elderly engine made quite a racket as it passed through. We settled to wait for three quarters of an hour, just in case.....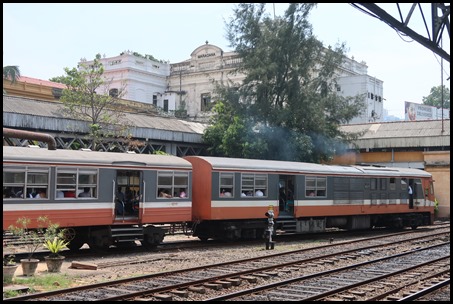 Quite a posh-looking train came through.
Just as well we didn't get on the first train (most waiting people stayed where they were so we took that as a hint). Just as well these signs had translations or we would never have a clue. A man stopped and asked if we were 2nd Class (no first class carriages on our train), we said yes and he told us to go to the other end of the platform as we were waiting by the third class end. Now the platform was crowded and it was interesting to get through......
The second part of our cunning plan was for Bear to get on as quick as possible and grab us seats. That done I would catch up. Settled, we looked up and read the sign – Reserved for Clergy. Oh, let's hope nobody gets on wearing orange then...... Rotating fans and all windows open we reckoned on a comfortable journey. Most people found seats, just a few standing in our carriage and plenty of room for the guard to check our tickets and for the various fruit, water and pop sellers to get through.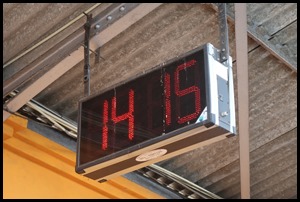 At exactly a quarter past two a whistle blew, sellers scurried off and the train honked, we were off. Passing a few 'one careful owners' and a few minutes later we stopped at Colombo Fort. Things changed quite a bit there as so many people got on that they were standing four deep all through the carriages, the underarm aroma was enough to strip nasal hairs at the root as so many were using the overhead straps.
Our journey. Thank you to Sri Lanka Rail for the Rail Map and Bear for bringing it up on his mobile phone map.
We left Colombo and stopped at many stations, passing through many towns.
Literally, a couple of hangers on.
When the 2004 Indian Ocean tsunami hit Sri Lanka, it derailed a train that was taking passengers from the capital Colombo to Sri Lanka's southern city Galle. The route runs along the southwestern coast of Sri Lanka, in places not too many metres from the sea. On Sunday the 26th of December 2004 (during both the Buddhist full moon holiday and the Christmas holiday weekend) the train left Colombo's Fort Station shortly after 6:50 A.M. with over 1,500 paid passengers, an unknown number of unpaid passengers that included ones with travel passes (called Seasons) and government travel permits.
When the first wave hit, it was up to the floor of the carriages and the train stopped. With that wave an alarm was triggered and sadly, many locals flocked to the train believing it to be secure on the rails and climbed on top of the carriages as they thought it was be safer hoping it would shield them from the force of the water.
The earthquake warning had been triggered in Colombo. When the tsunami reports first reached the dispatching office in Maradana, officials were able to halt eight trains running on the coastal line but were unable to reach the Matara Express. Efforts to halt the train at Ambalangoda failed because all station personnel were assisting with the overcrowded train and no one was available to answer the telephone until after the train had departed. Attempts to reach personnel further south failed as they had either fled or already been killed by the waves.
Ten minutes after the train had been hit by the initial wave, a huge wave (estimated to be two to three metres higher than the top of the carriages) picked up the train and smashed it against trees and houses, crushing those seeking shelter behind it. The eight carriages were so packed with passengers that the doors could not be opened as they filled with water drowning almost everyone inside. The people on top of the train were thrown clear of the uprooted carriages but most drowned or were crushed by debris. The engine was carried a hundred metres into a swamp. The town of Peraliya was also destroyed, losing hundreds of citizens and all but ten buildings to the waves. More than 200 of the bodies retrieved were not identified or claimed, and were buried three days later in a Buddhist ceremony near the torn railway line.
According to the Sri Lankan authorities, only about 150 people on the train survived. The estimated death toll was at least 1,700 people, and probably over 2,000, although only approximately 900 bodies were recovered, as many were swept out to sea or taken away by relatives. It is the worst train disaster in the world for loss of life, showing just how powerful Mother Nature can be.
Our average speed over the seventy-one mile journey was twenty six but the last bit we zoomed along at fifty-one (well for a couple of minutes....) We left our train and loads of tuktuk drivers were at us in seconds. One was particularly persistent and started at 500 Rupees. We knew our digs were a nine minute bimble and after being sat for so long we were more than happy to trot. No, he and his betel (first we have seen) stained mouth would not let go. 200 I said as we had gone miles in Colombo to the museum and paid that. To prevent any nonsense I got Bear to pay him before we loaded and he griped the whole way. He told me that Bear had given him 300 (to save face) and that my "husband is a nice man, I hope you never come back to Sri Lanka" and dropped us at the wrong digs. As I got out I whispered that I was the devil.......... Down the next street and there we were.
At a quarter past five we were settled in our digs, nothing fancy I hear you say, but a massive welcome from Kingsley and his family who are fantastic.
For supper we sat just outside our room. I chose sweet and sour chicken, it was literally little balls of chicken with diced carrots and a non-descript white vegetable in a sugar water. It worked and was delicious. Bear had half a chicken, chips and some of my veg.
Cannot wait to explore the tiny garden in daylight for now though, showers, Messiah 5 on my laptop and settled on our comfy bed. Night, Night.
ALL IN ALL ANOTHER AT-VENTURE
FASCINATING FUN WITH THE LOCALS
---