Cars and Carriages

Beez Neez now Chy Whella
Big Bear and Pepe Millard
Fri 30 Sep 2011 21:37
The Car and Carriage Museum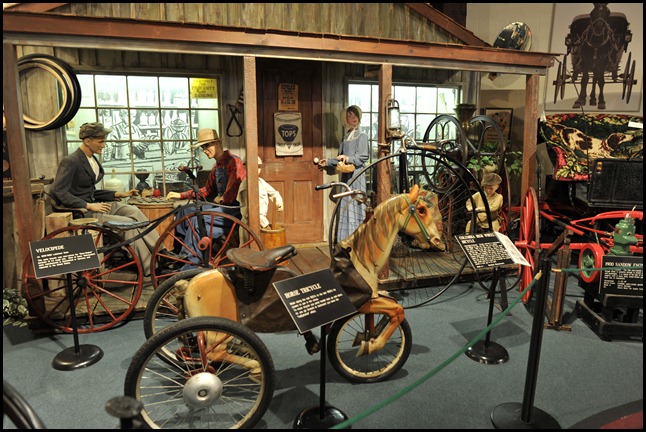 The Car and Carriage Museum is opposite the Luray Caverns before you get to the gift shop (always worth a look in those) and the ice cream hut; en route to the latter, Bear steered me in to this really busy display area full of all kinds of interesting vehicles.
1727-1729. This outstanding carriage was produced in Paris for the Royal House of Portugal, under instructions of King Joao V for the exchange of Princesses ceremony in 1729. Pulled by a matched pair or four horse team with footmen, this vehicle has leather strap suspension.
1840-1850. Road Coach. This vehicle was the "bus" of its time. Even though it looks comparatively small, it was able to transport twenty people and their luggage. The team of four horses were picked to match not only in colour but in size and gait as it was considered bad form to use the hand brake except on steep hills, the wheel horses took the strain of stopping the coach. This carriage was built in London by Holland and Holland.
1840. Conestoga Wagon and real John Wayne job. This carriage was used from 1750-1860 to haul freight across America could be pulled by oxen, more usually pulled by six horses, five wore iron hoops, the sixth a saddle for the wagoner. The team usually walked and was controlled by a single jerk line. The dory-shape of the carriages body prevented loads from shifting on the trail and the height of the wheels was determined by the number of streams or boulders to cross. Each state from Pennsylvania to North Carolina had its own gauge of road to protect their interstate commerce.
1875. Wicker Baby Buggy. Babies must not have been wrigglers in those days, pretty but all too exposed for my liking.
The Benz Patent-Motorwagen Number 3 of 1888, used by Bertha Benz for the highly publicised first long distance road trip by automobile
Bertha Benz (née Ringer) was born on the 3rd of May 1849 in Pforzheim, Germany. In 1871 she invested in the workshop of her fiancé, Karl Benz, making it possible to go on with a long and expensive developing process. As an unmarried woman she was able to do so. When they married on the 20th of July 1872, according to the law in those days, Bertha lost her juridical power to act. Together the couple had five children: Eugen (1873), Richard (1874), Clara (1877), Thilde (1882) and Ellen (1890).
On the 5th of August 1888, without telling her husband and without permission of the authorities, Benz drove with her sons Richard and Eugen, (then thirteen and fifteen years old), in one of the newly-constructed Patent Motorwagen automobiles - from Mannheim to Pforzheim - becoming the first person to drive an automobile over a real distance. Motorised drives before this historic trip were merely very short trial drives with mechanical assistants. This pioneering tour had a one-way distance of about sixty six miles.
Although the ostensible purpose of the trip was to visit her mother, Bertha Benz had other motives: to prove to her husband - who had failed to consider marketing his invention adequately - that the automobile they both heavily invested in, would become a financial success once it was shown to be useful to the general public; and to give her husband the confidence that his constructions had a future.
On the way, she solved numerous problems. She had to find ligroin as a fuel, which was available only at apothecary shops so she stopped in Wiesloch at the city pharmacy to purchase the fuel (dubbed "the first filling station in the world"). A blacksmith had to help mend a chain at one point. Brakes needed to be repaired, in doing so Bertha Benz invented brake lining. She also had to use a long, straight hairpin to clean a fuel pipe, which had become blocked and to insulate a wire with a garter. She left Mannheim around dawn and reached Pforzheim somewhat after dusk, notifying her husband of her successful journey by telegram. She drove back to Mannheim the next day. Her husband was not cross just extremely proud of her.
Along the way, several people were frightened by the automobile and the novel trip received a great deal of publicity - as she had hoped. The drive was a key event in the technical development of the automobile. The pioneering couple was able to introduce several improvements after Bertha's experiences, she reported everything that had happened along the way and made important suggestions, such as the introduction of an additional gear for climbing hills and brake linings to improve brake-power.
In 1944, on her ninety-fifth birthday, Bertha Benz was honoured with the title, Honourable Senator, by the Technical University of Karlsruhe. This is the alma mater of her husband and they had awarded an honorary doctorate degree to him in his lifetime.
Two days later on the 5th of May 1944 Bertha Benz died in her villa in Ladenburg, where the workshop of Karl Benz was built after they had moved there in 1906 and he established a solely family-held business, Benz and Sons. What a Gal.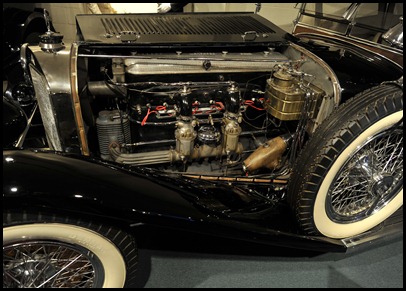 1892 Benz. This is one of the oldest automobiles on display in the United States. Although there were earlier experimental and custom-made automobiles; this was one of the very first cars produced in any quantity for resale. It is an ancestor of the present day Mercedes Benz. This is a 1-Cylinder, water-cooled, gasoline engine, built in Mannheim, Germany.
1927 Mercedes Benz. Four-place sports tourer model. The S is absolutely the finest sports and road racing car ever produced by any manufacturer. It is one of the heaviest and most powerful automobiles of its type ever made at 220 hp, it had a top speed of 110 mph, 6-cylinder, water cooled, super-charged gasoline engine. Made by Daimler-Benz in Stuttgart, Germany. Those beautiful white Denman tyres made me stop to see if Al Pacino was going to leap out and say, "You're my brudder, but..........."
1932. Rolls-Royce. Shooting Brake 20/25. The main purpose for the design of this particular lady was as a gentlemen's hunting wagon. However, the second owner of the shooting brake was a doctor in South Africa in the 1930's-40's. There were eighty-one cars produced in this GHW Chassis sereis. The coachwork is constructed with a mixture of Honduras and African mahogany which was made to order by Crosbie and Dunn Ltd, coach builders. Few of these shooting brakes survive today. Chassis number GHW-79. Horsepower: 25.3. Speed 50 mph. 6-cylinder, water cooled, gasoline engine. Built in Derby by Rolls-Royce and Co. Original cost $15,800.
1925. Rolls-Royce. Silver Ghost Town Car. This automobile was and still is the tops in the "prestige field". This particular car was personally owned by Rudolph Valentino, of the silent screen era. The body paint was intentionally "alligatored" when new to create the effect of a leather-covered body. Made in Springfield, Massachusetts by Rolls-Royce of America Inc. 6-cylinder, water-cooled, gasoline engine.
I have always known that the emblem on the front of every Rolls-Royce was called the Spirit of Ecstasy but not why or who - time to look it up. Eleanor Velasco Thornton was an English-born actress and artist's model. She was born in Stockwell and left school at sixteen. At twenty two she was the secretary of John Edward Scott-Montagu, who became the second Baron Montagu of Beaulieu in 1905. She was also his mistress, they had an illegitimate daughter that she gave up for adoption, knowing that if she kept the baby she would not be able to remain with the love of her life. Eleanor posed for sculptor and John's friend, Charles Sykes and was the model for his Spirit of Ecstasy, also nicknamed "Emily", "Silver Lady" or "Flying Lady which is used as the bonnet/hood ornament on cars manufactured by Rolls-Royce, as well as a precursor sculpture to, The Whisperer. Eleanor was drowned at the age of thirty five, with hundreds of other passengers on the 30th of December 1915 when the SS Persia, on which she was travelling with Montagu through the Mediterranean on the way to India, was torpedoed without warning by the German U-boat U-38, commanded by Max Valentiner. Montagu survived the sinking and searched a long time in case she had been rescued and was alive somewhere. This fantastic love story is to be made into a film by Lord Attenborough and will star Christian Bale, a definite for Bear's chick-flick collection.
1910. Maxwell. Everyone who has ever heard of Jack Benny certainly knows about the Maxwell Roadster, with a certain lack of windscreen. This car was in fact very popular in its era and became one of the base cars in the formation of the huge Chrysler Corp. It cost $825 was 14 hp, 2-cylinder, water-cooled and was built by the Maxwell Motor Company in Tarrytown, New York.
1914. Westcott. This touring car was found in an unusually good condition with only 1,700 actual miles on the clock. It has been re-tired, re-topped and re-painted, but the engine has not been touched and it will cross any mountain in the area in high gear without a whimper. Nickel trim, 60 hp, 6-cylinder, water-cooled, gasoline engine, built by Westcott Motor Company, Richmond, Indiana.
1906. Cadillac. Double Tulip Tourer. Perhaps an outstanding example of elegant beauty and comfort in its day. By 1906 most manufacturers had progressed to two or four cylinder engines, however this model Cadillac was very popular and an excellent performer. Original cost $950, 7 hp, 1-cylinder, water cooled, gasoline engine made by the Cadillac Motor Car Company in Detroit, Michigan.
1912. Hudson Tourer. This car was one of the best stock touring cars of its day. There is no fan behind the radiator; its cooling depends on an air draft from the flywheel. Heavy appearance and right hand drive on this 25.6 hp, 4-cylinder car built by the Hudson Motor Car Company of Detroit, Michigan for the princely sum of $1,600.
1931. Morgan. Bear just had to see his favourite super sports car in the blog. This three-wheeler is an extremely quick car, able to carry the driver and one passenger. The space under the "hood" is for the passengers leg room. Throttle controls are mounted on the steering wheel and lubrication is by hand pump on the dash. 35 hp, in the 60's mph. 2-cylinder. Made in Malvern by the Morgan Motor Company.
1922. Willys Knight. County Club Phaeton. It just had to be my choice with its sleeve-type valves which when properly adjusted and cared for are highly efficient and seldom needed heavy maintenance or replacement. My choice because this car is the predecessor of the world famous Jeep. Made by the Willys-Overland Company in Toledo, Ohio, on the road cost $1,525, 21 hp 4-cylinder.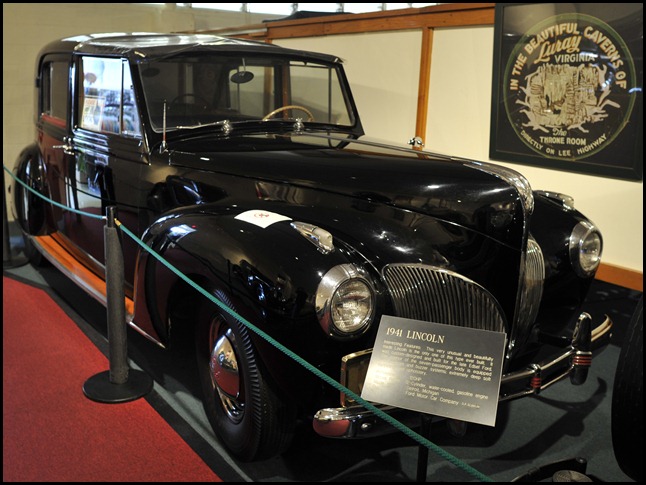 1941. Lincoln. Has to be our joint choice to end with. This very unusual and beautifully made Lincoln is the only one of this type of car ever built. It was custom-designed and built for Edsel Ford. The interior of the seven-passenger body is equipped with intercom and buzzer systems; with extremely deep, soft carpeting and upholstery. 120 hp, 12-cylinder, made at the Ford Motor Car Company in Detroit, Michigan at a cost of $2,865.
ALL IN ALL A GOOD BIMBLE AROUND SOME GREAT LADIES
---