Than Toan Bridge

Beez Neez now Chy Whella
Big Bear and Pepe Millard
Thu 11 Jan 2018 23:37
Than Toan Covered Bridge and Market
We ventured out on a damp, humid, bitterly cold and rainy morning to see a covered bridge. Most of the fifteen minute journey was passing endless paddy fields, currently underwater due to the rainy season. These must look so glorious in verdant green when the little plants are doing their stuff. This morning even the geese huddled together for comfort. It never said anything about this weather in the books......
We arrived at Than Toan village and saw the bridge in the distance.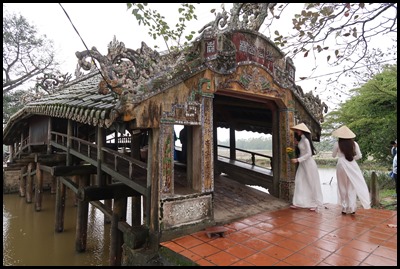 We bimbled to the bridge only to find some pushy Chinese had hired a vegetable seller and two models (who were absolutely frozen in their very thin outfits) to make the bridge look more authentic...... Mmmm.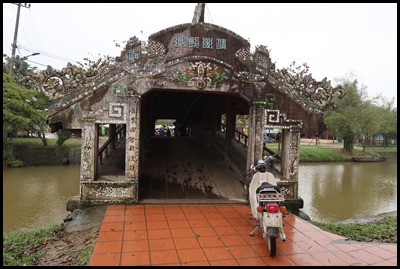 We walked to the other side only to find a motorbike spoiling our view. At least we got to study the ceiling support.
Walking back toward the throng, we looked at the teak supports.
Shivering models in silhouette, pose quaintly.
A quick look at the bridge shrine and a couple of opportunities with the vegetable lady.
We left them to it, all flapping ponchos, clicking cameras and trilly voices.
We went to explore the market, not that we wanted to but at least we were heading undercover. We took in the over-burdened two-wheel transport.
Vietnamese markets are all beginning to look the same.
Business was slow on the general stall.
Fish so fresh it was still wiggling.
Butcher-esses, hard at it.
This old lady should be warm at home, not selling a few scraggy bits of cabbage.
Fish prepping at full speed.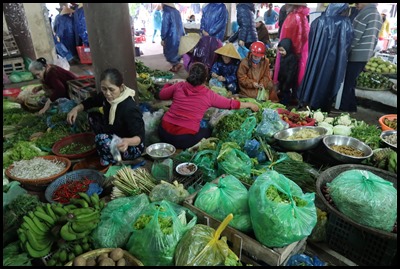 Passing the vegetables we went in search of the market shrine. Just about everything has a shrine, kitchen, living quarters, ancestors, street, public, holy ones, pagoda ones.......the list is endless.
Even the interesting tree was adorned with joss sticks.
Finally, we had the bridge to ourselves. The plaque told us it was built in 1776. A rather grand old dame.
We walked toward the 'modern' bridge and looked down the river toward the monkey bridge. These are very flimsy affairs, just a couple of bamboo poles supported by a few stilts and a rickety hand rail.
Leaving the village these two big houses seemed rude.
ALL IN ALL IT WOULD BE LOVELY ON A SUNNY DAY
QUITE PRETTY
---