Alternator Woes

Beez Neez now Chy Whella
Big Bear and Pepe Millard
Sat 31 Aug 2019 23:57
The Saga of the Alternator Continues
Thursday the 29th. As this chap enjoyed a peaceful bit of fishing, we attacked Beez sizeable green and brown beard. Crabs scuttled out of the way, a couple of tiny snails were asked to relocate and all of a sudden a real chop had us bobbing up and down. We gave in exhausted and need to be back in the water, scrapers in hand – another day. In the evening I was finally able to log into the newly re-jigged blog site. Three months of not being able to sign in or edit. I waited until 23:00 (free internet) and had to give up at four when my eyes furred over – fifty blogs logged most the Chagos ones. Just eight left to do for now.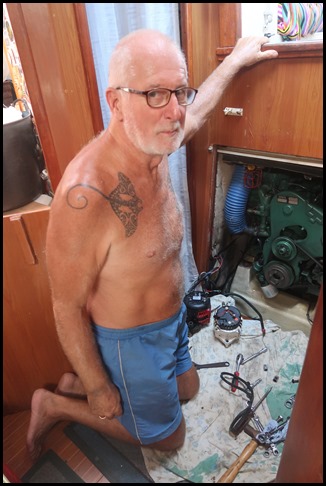 Friday the 30th. Bear, not so thrilled......... set about taking the new (failed with broken bolt made in Gan, Maldives) and replacing it with the old one. Never far from a smile, all went well. Irma swam over for a chat, I was trapped below by tools and detritus but did manage to finish loading the last eight blogs. Still behind, as always.
New one left, old one right. A delighted Bear reported all was well and although the old one does not charge as fast, it's better than nothing. Later, Kevin came over and I tried to leave the men to boys talk but I did keep nipping to the bottom of the stairs with questions about South Africa. The day ended really well as we were invited over to Canace for supper. A smashing time.
Saturday the 31st. We woke this morning and Bear found the old, newly refitted alternator failed. He spent all morning re-taking it all to pieces and checked fuse, wires and thinks the fault must be inside the unit itself. The only good thing to smile about is his rewiring of the solar panels is pushing in eighteen amps instead of 7. Feeling a bit low, we settled to lunch and games. Really looking forward to going ashore for a bimble on the morrow with Kevin and Irma.
ALL IN ALL MORE UP AND DOWNS ON CHEZ BEEZ
I'M NOT FRUSTRATED - MUCH
---