Plantation Fun

Beez Neez
Skipper and First Mate Millard (Big Bear and Pepe)
Wed 29 Nov 2017 23:27
Fun and Tastings at a Peanut and Coconut Palm Plantation
We stopped at a palm plantation en route to Mount Popa, I detoured to watch an ox walking round and round grinding something at the centre of his contraption. Our guide told us the ox and driver were grinding peanuts to make oil. Well, colour us happy we got to have a go.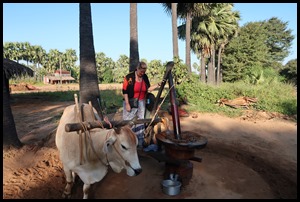 I was so busy videoing Bear on his turn, I forgot to take a picture. When we got up this morning we had no idea we would ever have this opportunity so it was never on our Bucket List. My turn, I loved it and called it a Big Tick. So happy was the chap and his animal, constantly clucking and chirping. It was lovely to see the whippy stick in hand was only used against the frame to get the beautiful beast to start from a standing start. The ox was in wonderful condition, no rub marks, wounds or old scars. The frame, I couldn't help stroking, was the smoothest teak. Round and round I went, what a treat. Too soon, it was time to see what we had stopped for.......
We couldn't help watching for a few more minutes.............
Then we stopped to watch a lady vigorously rocking her baby and humming.
We then stood in front of a lady who used a scoop in a small pot. A faint coconut taste.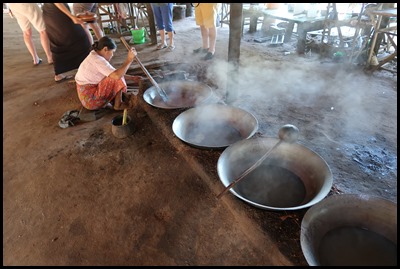 A lady making peanut paste that will make lumpy and delicious sweets.
A constant need to feed the fire as well as rigorous stirring.
Lovely little decorations made from palm leaves.
These ladies were making peanut paste mixed with cinnamon sweets.
The roof made of bundles of palm fronds.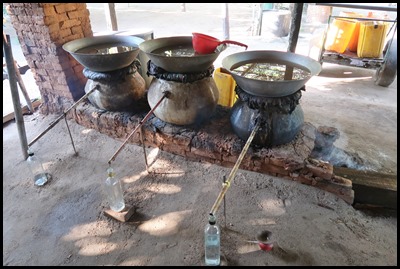 The alcohol producing end of the business. Dodgy looking in this condition but a crystal clear fluid by the time we tasted it, very similar to sake. We resisted everything the stalls had to offer as well as the various hooches, very disciplined of us.
Time for coconut tea anyone with delicious peanut brittle biscuits.......
ALL IN ALL A TREAT TO RIDE AND TASTE
A GREAT INTRODUCTION TO LOCAL PRODUCE
---