Audierne

Beez Neez
Skipper and First Mate Millard (Big Bear and Pepe)
Mon 21 Jul 2008 02:06
So pleased we decided to anchor in Ste Evette and go by tender to Audierne.
Audierne is a very picturesque town built around fishing. Cafes and restaurants small and cramped but very popular. The area smelt like the London underground.
Exploring past the marina we found this chateau and a boat graveyard. The flowers on the railings pretty, pity about the dog poo all along the tow path.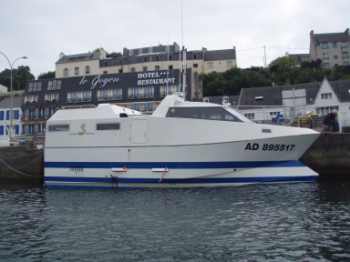 The fishing boats are a unique shape and we even found one painted in bee colours. We found an Aldi for supplies ready for our Biscay trip.
Happenings of note so far.
BEAR. Watched a man leaving the marina at Trebeurden knock the starboard marker pole down.
Shock when a Frenchman asked him what the toilet code was, wearing brogues, a nightcap and nightshirt.
Rescuing a tender while other yachties watched it drifting away.
We had just showered at Ste Evette and got into the tender when a Frenchman asked us if we "were going to our bateau". "Yes". With that he put his friend in our dinghy, his friends
very large case into his very small dinghy, put his oars down and firmly held onto our side lines. Their boat had the biggest flag we had ever seen, "Its from Navy" he said very proudly.
a) How was he going to get his friend and case into his very small dinghy ??
b) Would he have lived long enough to row that far ??
By the time we got them deposited we were soaked and felt quite bemused.
PEPE. The Frenchman who threw me his beautifully coiled rope whilst coming in fast to a tight mooring. It was attached to nothing. Neither was the second line he threw.
Finding French computer keyboards are not laid out the same as ours. I was typing furiously and when I looked up I had typed a load of c - - p.
Bear and his limited schoolboy French and me with mine.
Skipper about his chores scrubbing his bottom.
Off tomorrow Wednesday the sixteenth.
---