Lo's Teashop

Beez Neez now Chy Whella
Big Bear and Pepe Millard
Thu 3 Sep 2015 22:57
Lo's Teashop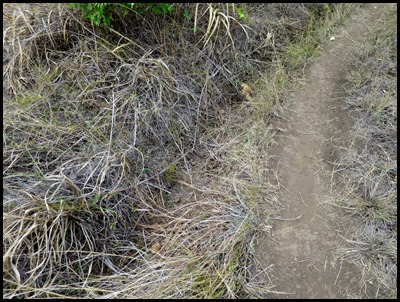 After our first attempt to get to the teashop we spent a very quiet day in quarantine yesterday, we played backgammon, watched episodes of Touch and a game of Mexican train dominos. It was funny when Bear had a 'no starter' and was facing twenty eight men. I struggled to go out but did leaving him to score minus sixty, I only had four men though so I see it as harsh, very modest considering you picked up thirteen men........ This morning after a late start Bear said we should attempt Teashop Take Two. Oh dear, we turn left every time we get a choice. Yes Ma'am. My personal goal was to get up the hill in one - no breathers at the pineapples or house build, but to get to the beginning of the track at the top. Wow, that's ambitious. When you consider in full fitness we should be able to take on the foothills of the Annapurna range, I would say not. Still, we have been poorly and it is only our second walk so we should be kind to ourselves. Mmmm, get walking. The next goal was to get past what is now known as Bear's Ditch. Yeeha, we did both. Now all we need is to actually get to the teashop, find it open and hey the skies the limit.
I marched on and began to chat to Bear, no reply, oh that will be because he fell behind, now seen as a red speck. I didn't mind as it gave me the chance to watch a male goshawk in action. He was chasing a tiny swift but above was a single frigate bird eyeing the whole scene.
We both looked back and giggled, this is where we went wrong the other day, Bear had confidently gone downhill, today we did an uphill, to our left.
Very reassuring to see we were heading the right way especially when a passer-by said we would see a house in a minute, from there it was all downhill to our target.
The house as promised but Mrs Hen looked displeased and turned her back as we offered nothing to eat. Eight babies, didn't she do well.
The next house we found no one home and retail therapy was out, as was Grandma.
Going downhill as instructed, we passed a real thatched roof and there on the beach was Lo's Teashop.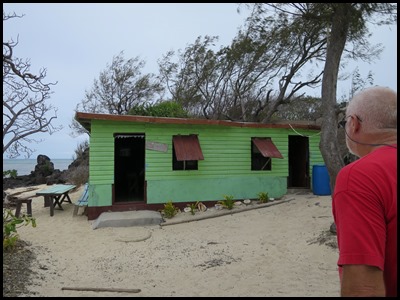 Not a soul about at Lo's. We looked in and saw no one behind the counter. Calling "Bula" a voice from a far corner told us she was resting on the floor. Anna appeared and said she was covering for her sister, Lo who was away shopping on the mainland.
Time for retail therapy as our lemon tea and slices of chocolate cake – wonderful aroma and delicious. Well worth the two bimbles. We chatted to Anna for a while, she told us her husband had just retired and had enjoyed their holiday with Lo, he had loved the fishing and was considering moving here full time. We bade her well, learned that 'Please' is 'Kerekere' and began our walk back.
Modern and old mixed. Up the steep path by the vegetable patch. A sole bloom.
The bimble back went without mishap.
A nozz at the solar panels.
Building taking shape.
A chap was on the march in front of Baby Beez so we had to be careful not to squadge him.
ALL IN ALL SUCCESS
A GOOD ACHIEVEMENT
---