Peace with Saintes ?

Beez Neez
Skipper and First Mate Millard (Big Bear and Pepe)
Wed 10 Jun 2009 22:31
The Saintes for the second time - to make peace ???
We left Deshaies at 08:45 for the 18 mile motor sail to The Saintes. Soon after leaving we saw this gas guzzler. Passed Basse Terre and saw Marin waiting to be led in by Pilots.
When we were last with Pete from Troutbridge in St Lucia he kindly agreed to be our sponsor to join The Ocean Cruising Club. We faxed off the forms and were accepted as members. The qualifying passage is to be in charge of a vessel for one thousand nautical miles. We both did that and more each on our crossing from Cape Verde to Barbados. Jump Jet delivered our burgee and flag. Burgee seen in place of our threadbare RNLI flag. The flying fish motif is a great symbol for us as we only saw them toward the end of our crossing. The flag (kept for spare).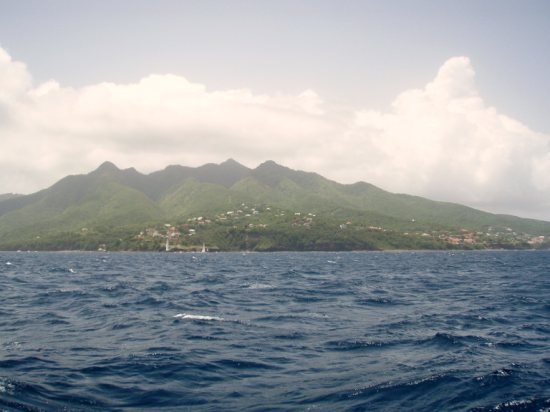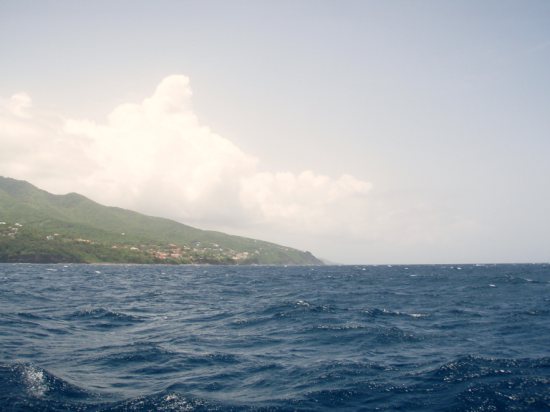 Passing Pointe du Vieux Port and clearing Guadeloupe into open sea.
Log time, The Saintes come into view and a different view of the girl taken from the very front. An unusual sea motion for us is to have waves coming at us, so like in the movies we were bobbing up and down rather than leaning to one side, I couldn't resist going to sit on my perch at the very front of Beez. I carefully made my way forward and as I reached the front I saw five dolphins in tight formation in our bow waves, two on one side, three on the other, they were not playing or singing - just travelling. I settled in my perch and off to port were another four, again just making their way, so all you see is their sleek backs and top fin. Having not seen any for ages it was such a welcome sight. I had so much fun going up about ten feet then dropping to get my feet wet that I scrambled back and asked Bear to go and experience the sensation.
It was amazing to watch the WOW on Pepes face, the best since we left the UK. I have to admit when she wanted me to try I was a bit skeptical but thoroughly enjoyed myself too.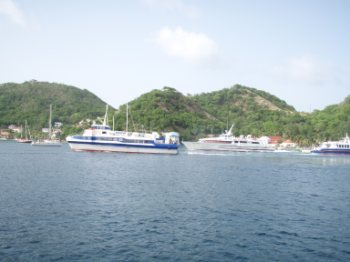 Two ferries leaving the dock together, not racing of course. Skipper watching the events.
We anchored, got Baby Beez launched and went off to check in for two nights. Bear made me go with him AND carry the wallet (waterproof and with inflatable device) that holds the ships papers AND the passports.
One of the churches we could see from Beez - one of those that goes progressively more each quarter hour and nuts on the hour, OK if you like that sort of thing. A pretty view from Beez. The Town Hall. We arrived there at 16:30, I had said that if the place was closed we would go the next morning. It was open and we hurriedly filled in the form together, Bear at the top me doing the bottom and were told to come back in twenty minutes for our part of the form. Off for a beer. I have now given up looking at people. I / we are so used to being greeted and chatted to on other islands that to arrive here and be faced with blankness is a shock, tried smiling, saying bonjour, to no avail, so nuts to them. Back for forms and then back to Beez. Later that night we were playing upword when we were boarded by a very attractive Customs man. His co-worker was one of those bald Telly Savalas types you couldn't help but find sexy. They asked if we had a gun and I promptly said I'd have shot my skipper by now. Eyebrows shot over their heads until we told the story of the passport assisted suicide in 100 feet of water. Much sympathy then, AND he said he would look at my new one. He held it throughout all his form filling. Refusing a juice he said "I only drink alcohol" but reassured us he was only kidding. He could do whatever he wanted with me plus I'm not sure how I feel about chatting to someone in close proximity with their loaded weapon casually on his waistband and the gently chinking of his handcuffs. Oh err missus. Sadly it was time for them to leave and even sadder when the American boat behind us arrived back on their dinghy only to let out a collie dog happy to bark at the wind. Thank the Lord it went to bed with them. Next to them pulled in a French catamaran with one of those whizzy air generators that I want to blow up. Glad to say both boats left the next morning. Hurrah.
There are few sandy beaches on his side of the Saintes, those we found we could not get to on Baby Beez because of rocks, this one next to the yacht club we minced our way in. We took a picnic and had a pleasant couple of hours watching an ex fishing boat, now ferry for goods be unloaded. All sorts came off and a little Renault went on. It must prove to be entertaining to the natives as well, loads came out to watch too. So we had a nice day. Whilst the Saintes has a resident cockerel and there is slight similarities to Fowey, there is no soul.
ALL IN ALL I WILL NEVER REALLY LIKE THE PLACE
---