Bigbury

Beez Neez now Chy Whella
Big Bear and Pepe Millard
Sat 24 Mar 2012 23:47
Bigbury
I felt too ill this morning to raise my head. Chest is fed up with the elephant that is using it as a bench, ribs sore from coughing, cheesed off with the necessary addiction to Strepsils and generally feeling quite sorry for myself.
I managed a quiet morning until I heard MOTH say in a voice that Hattie Jacques would take no prisoners with: "We are going to fill your lungs with fresh sea air at Bigbury."
I'd rather chew my own foot off but one look from the Mistress Of The House and I was in the car before you could say – in a flash.
Dogs loaded, Assistant Master of the House drove and soon we were in tourist/dog walking mode. I wrapped a jumper around my head, choked in the healing air and put one foot in front of the other on the cold sand.
"Marvellous." said Hattie. Too weak to argue I nodded vacantly.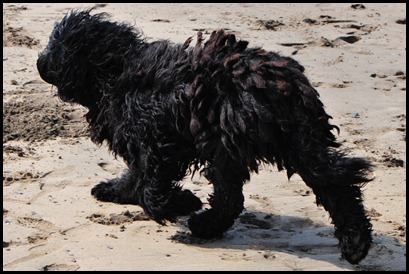 As the young and fit did surfing stuff, Biaga dug a hole whilst Small Person looked on; all I could think of was surviving the bitter wind and whether my strength would get me to the Pilchard Inn (on Burgh Island - as the tide was out it would have been wrong not to). A stiff libation now my only goal in life. Arriving at the pub Biaga slurped at a water bowl - from her beard a small sand castle was left as a thank you.
Seated with my idea of medicinal support, we watched the world go.
Out with a brace of Bergamasco Shepherds there are many questions from passers-by. This young man wanted a comparative head shot.
Little has changed in this pretty corner of Devon and it brought back happy memories of family visits, even the tractor that takes you back and forth across the causeway (when the tide is in) looked very chipper.
I was dragged kicking and coughing from the pub and on our return bimble across the beach Small Person was terrified when a kite surfer came down with an alarming THUD. Well I felt sorry for her, as after all, you don't see too many of those in Norway. She bolted, Biaga rounded her up and she cowered at Bear's feet. Time to head back to the safety of the car.
Not before Biaga showed us a few moves and a hip wiggle
ALL IN ALL - ON BALANCE - I PREFER BAILEY'S O'CLOCK TO FRESH AIR
---