Opals

Beez Neez now Chy Whella
Big Bear and Pepe Millard
Fri 7 Nov 2014 23:47
The Opal
Opals come in all colours with flashes of all colours within. I only thought they came in green and I've only really seen them in a milky-creamy colour with flashes of pink and orange within. Clearly we know nothing about them, time to find out a bit. Personally, I love diamonds and quite like sapphires. I adore tanzanite. We have learned quite a bit about pearls and Bear insisted I have a black one for my birthday when he took me to see the pearl farmer in Akamaru in 2012 – note to self, it's never been around my neck, perhaps I should put it on at Christmas. He bought me a tiny piece of Tahitian Jade for my Pandora bracelet and a little piece of greenstone that I wear on my right ankle from South Island. I need no more, so we never came here as purchasers. Thank Heavens you don't like rubies, emeralds........and all the other shiny things that we will find out about via our travels on Beez. Ummm.... No you said it yourself, you don't need any more. But I might need a few bits and bobs for my bracelet....... You'd have to be good first....... Huh.
Here in Lightning Ridge the one opal I thought was truly special came with a price tag of twelve thousand pounds in a jewellers and I could have been tempted by one of the miners who offered me one for six hundred pounds that in a split second dropped to three hundred, so what was it really worth, had I been the purse holder would he have taken a hundred had he seen the printed paper, I'll never know .........what I do know is that we must learn more about this somewhat odd stone that makes men spend their working life scratching around underground in the hope of striking the 'big one'.
I would never wear it and actually prefer to see it poking out, shining from the stone in its natural form. Can't argue with that.
Opals were a treasured gem amongst many of the ancient peoples of the world. The ancient Greeks thought opals were the tears of Zeus and that they were prized as highly as diamonds. Early Greeks thought that opals gave power and limitless possibilities to their owner. They believed opals gave the gift of foresight and prophecy which would insure the owners' success in war, business and life. The Romans raved about the beauty of the opal as expressed by one of the greatest historians Pliny. He wrote that it was "made up of the glories of the most precious gems, to describe it is a matter of inexpressible difficulty; there is in it a gentler fire of the ruby, there is the brilliant purple of amethyst, there is a sea-green of the emerald all shining together in an incredible union. Some aim at rivalling lustre the brightest azure of the painters palette, others the flame of burning sulphur, or of a fire quickened by oil." Ancient Romans believed that opals were a token of hope and purity.
Opal was introduced into Greece during the first century B.C. The Greek name for it was "Opillios" a word originating from two other words. The first of which gives us words such as opaque and optical, while the second gives us words like alias and alter. Therefore opal literally means "To see a change" – of colour. The Greeks and Romans probably obtained what opal they had from Anatolia in Turkey or from India – as mentioned by Pliny.
The opals reputation changed in the late 1800's when they were wrongly thought of as "Bad Luck." This false belief started from a Sir Walter Scott's best-selling novel "Anne of Geierstein." The story is about Lady Hermione who is falsely accused of being a demon when she dies soon after a drop of holy water falls on her opal hair accessory and destroys the spark of life in the stone. All of these superstitions of bad luck were changed over time.
Australian Opal Spray Brooch: A little-known and not often used piece in the Queen Elizabeth II's collection, this brooch uses a stone that she doesn't frequently choose: opals, black opals, in the design of a spray of flowering gum. It was a wedding present to the Queen (Princess Elizabeth, as she was then) in 1947 from the Returned Sailors', Soldiers' and Airmens Imperial League of Australia. The official wedding gift list notes that the brooch's casket bears the badge of the league in gold. The Queen appropriately wore the brooch during a visit to Australia in 2000 and it has made a couple recent appearances, though it is still a rare brooch to see in use.
The Andamooka Opals: During her tour of Australia in 1954, Her Majesty was presented with an astonishing set of opal jewels. The necklace and earrings were set with opals that had been discovered in the Andamooka opal fields; the enormous opal in the necklace weighs more than two hundred carats. Queen Elizabeth II wore the set once during the tour, pairing it with Queen Mary's lover's knot tiara -- and then put it in the royal vaults.
Opals of the World
Opal is a hydrated amorphous form of silica; its water content may range from 3 to 21% by weight, but is usually between 6 and 10%. Because of its amorphous character, it is classed as a mineraloid, unlike the other crystalline forms of silica, which are classed as minerals. It is deposited at a relatively low temperature and may occur in the fissures of almost any kind of rock, being most commonly found with limonite, sandstone, rhyolite, marl and basalt. It is found in several countries including: Australia, Brazil, Ethiopia, Honduras and Mexico.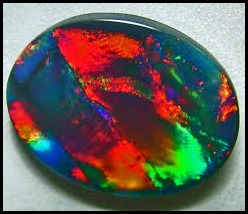 Opal is the national gemstone of Australia. Australian opal has often been cited as accounting for 95-97% of the world's supply of precious opal, with the state of South Australia accounting for 80% of the world's supply. Recent data suggests that the world supply of precious opal may have changed. In 2012, Ethiopian opal production was estimated to be 14,000 kg (31,000 lbs) by the United States Geological Survey. USGS data from the same period (2012), reveals that Australian opal production to be $41 million. Because of the units of measurement, it is not possible to directly compare Australian and Ethiopian opal production, but these data and others suggest that the traditional percentages given for Australian opal production may be overstated. On the other hand, the referenced USGS paper is described as `advance release', suggesting it may not be in final form: this is evidenced by the following quote:
'Gemstones - Artisanal miners produced gemstones including amethyst, aquamarine, emerald, garnet, opal, peridot, sapphire and tourmaline. In fiscal year 2012, gemstone exports were 16,523 kg compared with the Government's target of 18,000 kg. Between late 2010 and early 2012, nearly 1,000 kg of aquamarine was produced about 30 kilometers from Shakiso (Laurs and others, 2012; Mesfin, 2012).' Table 2 of the same article lists artisanal miners at the main facility Wegal Tena, with 2012 gemstone opal output as 750 kg (1,650 lbs).
The internal structure of precious opal makes it diffract light; depending on the conditions in which it formed, it can take on many colours. Precious opal ranges from clear through white, grey, red, orange, yellow, green, blue, magenta, rose, pink, slate, olive, brown, and black. Of these hues, the reds against black are the most rare, whereas white and greens are the most common. It varies in optical density from opaque to semi-transparent.
Common opal, called "potch" by miners, does not show the display of colour exhibited in precious opal'.
Opal mining areas
Early history of opals in Australia: In 1841, a German prospector Johan Mange, found opal near Angaston in the Barossa Valley. This opal was later displayed at the 1851 Great Exhibition in London. There is no record of any more mining being carried out in the area. In 1863, the reverend John Bleasdale recorded the existence of opals in the Beechworth mining district of Victoria. Unbelievably they were extracted during gold sluicing and displayed some colour play. In 1870, opal was found near Sunbury, Victoria and in a basalt layer near Gelantipy, Victoria. Up to now none of these early finds has ever bee worked.
In 1873 there was a spate of opal finds which spread throughout Western Queensland. Cobb and Co., diverted their coachlines west from Charlexille. Coaching stages turned into towns even before names were found for them such as Blackwater, Quilpie, Adavale, Eromanga, Hungerford and Barringun.
In 1872 opal was found at two locations in Queensland, firstly at Listowel Downs Station and secondly in the town of Springsure – the first mining and sale of Australian opal ever recorded. It was soon found that this new area was too difficult to work without ruining any opal uncovered.
In the late 19th century Tully Cornthwaite Wollaston burst onto the opal scene and eventually founded the Australian opal industry by breaking into the lucrative European and American opal markets. He approached them with opals from Central Queensland and then opals found at White Cliffs N.S.W. by two kangaroo shooters. Since the beginning of this century opal has been found in many places in Australia including the well known fields here at Lightning Ridge – 1902, Coober Pedy – 1915 and Andamooka – 1930.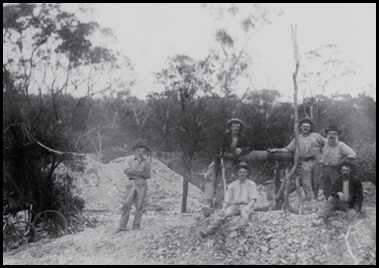 History of Lightning Ridge Opal: During the 1880's opal was observed at Wallungulla, an area now called Lightning Ridge but little importance was attached to it as the stone was not recognised as being of commercial value. The Ridge was first brought to light by Charlie Nettleton in 1902 at what is now known as McDonald's Six Mile Mine. Soon the Ridge was inundated with bushmen who were eager to find their fortune.
The Black Opal, which Lightning Ridge is famous for, was not well received by the gem trade. Nettleton took his new unsaleable black opal overland to T.C. Wollaston at White Cliffs. Wollaston immediately saw its phenomenal potential and was determined to introduce them to a reluctant market. In 1904, $2000 worth of opals were sold. By 1909 there were eight hundred miners at the Ridge.
Lightning Ridge is not the only place in the world where black opal is found. A little has been found at White Cliffs in New South Wales and in both Queensland and South Australia. In 1906 black opal was worked in Virgin Valley, Nevada and Java, Indonesia.
Some very large opals have been found at the Ridge. The Pandora, a light opal with a beautiful combination of colours measuring four by two by one inches before it was cut down to around six hundred carats. It was an actual portion of a Plesiosaurus, an extinct sea monster that roamed the worlds seas seventy million years ago. The Pride of Australia weighed about three hundred carats, when sold
had a bright green background through which brilliant orange surged.
Halley's Comet, is recorded in the Guinness Book of Records as the world's largest uncut black opal nobby. The massive stone was found by a group of opal miners on the Leaning Tree Claim at Lightning Ridge known as "The Lunatic Hill Syndicate" about the time Halleys Comet appeared in Australian skies. It weighs 1982.5 carats and measures 4 x 2-5/8 x 2-1/2 in. Halley's Comet was for sale in 2006 for AUD $1.2 million. The gem has a thick gem quality green and green/orange colour bar and is the largest gem nobby to be found at Lightning Ridge to date.
90% of Australian Opal is called light opal or white and crystal opal. White makes up 60% of the opal production, but cannot be found in all of the opal fields. Matrix Opal is a type of boulder opal found in boulder ironstone.

Matrix opals are always cut with the host rock included. They are cut in such a way that the patterns of the opal within the rock are seen.

Crystal opal or pure hydrated silica makes up 30% of the opal produced, 8% is black and only 2% is boulder opal.
The town of Coober Pedy in South Australia is a major source of opal known by the same name.
The world's largest and most valuable natural gem opal "Olympic Australis", named for the Melbourne Olympic Games being held at the time. It was found in August 1956 at the "Eight Mile" opal field in Coober Pedy. It weighs 17,000 carats, is 11 inches long, 4.75 inches in height and 4.5 inches wide and valued at $2,500,000. It consists of 99% gem opal with an even colour throughout the stone, and has been left in a natural organic state, unpolished and uncut with blemishes. The

Mintabie Opal Field

located about one hundred and sixty miles north west of Coober Pedy has also produced large quantities of crystal opal and the rarer black opal. Over the years, it has been sold overseas incorrectly as Coober Pedy opal. The black opal is said to be some of the best examples found in Australia.
Andamooka

in South Australia is also a major producer of matrix opal, crystal opal, and black opal.

Lightning Ridge

in

New South Wales

, is the main source of black opal, opal containing a predominantly dark background (dark-grey to blue-black displaying the play of colour). Boulder opal consists of concretions and fracture fillings in a dark siliceous

ironstone

matrix. It is found sporadically in western Queensland, from Kynuna in the north, to

Yowah

and

Koroit

in the south. Its largest quantities are found around

Jundah

and

Quilpie

(known as the "home of the boulder opal") in

South West Queensland

. Australia also has opalised fossil remains, including dinosaur bones in New South Wales, and marine creatures in South Australia. The rarest type of Australian opal is "pipe" opal, closely related to boulder opal, which forms in sandstone with some iron oxide content, usually as fossilised tree roots.
The Aurora Australis was found in 1938 at Lightning Ridge and is considered the world's most valuable black opal. The oval, cut and polished stone has a harlequin pattern with dominant red, green and blue colours against a black background. It weighs 180 carats and is 3 inches by 1.8 inches. The rarity of the opal comes from its size and strong, vibrant colour play. It weighs 180 carats and its dimensions are 3 inches x 1.8 inches. Dug from an old sea-bed it has the distinctive impression of a star fish on its back. It was valued at AUD$1,000,000 in 2005.
The Aurora is the first large, fine, Australian opal mentioned in literature. Charlie Dunstan had found another large opal previously, but its blue-green colour play was not considered valuable at the time - although the stone weighed about 12 ounces (close to 1860 carats). At a depth of approximately six metres, Charlie found the brilliant gem. This treasure was rumoured to have brought Dunstan 100 pounds. Altmann & Cherny purchased the opal in a semi-rough state (a rub). They cut and polished the opal into its oval shape, and realising what a true gem they had, they named it the "Aurora Australis" after the bright southern lights in the night sky.
The Fire Queen: In November 1906, Charlie Dunstan found "Dunstan's Stone" (Later renamed to "The Fire Queen"), at the Angledool Diggings. She weighed in at about 6.5 oz. or nearly 900 carats. She was the largest nobby to date - alive with colour - "truly a marvellous gem, too beautiful for words!"
After selling the stone for a paltry £100 to an unknown buyer on a trip to Angledool, the story goes that Dunstan got drunk and "lost" two other big stones. In November 1910, Charlie Dunstan was found dead in his hut from a gunshot wound to the head. The verdict was that he had committed suicide.
After being originally sold for a mere £100, the stone changed hands several times, each new buyer finding it difficult to sell as there was hardly any market for big black opals in those days. By 1928, however, it was in the Chicago Museum, valued at £40,000 after being renamed "The Fire Queen". In the 1940's, it was then resold to J.D. Rockefeller for £75,000, who donated her to his prestigious family collection.
Solids, Doublets and Triplets: Solids are natural stones which have been cut and polished. Many of them have natural potch or rock backs. Doublets are two pieces cemented together. Bonding a layer of high-grade opal to a black back enhances the colour and makes them very attractive. Some have a very nice cabochon top, which in many cases, resembles black opal. Triplets are doubles that are usually made from wafer-thin layers of opal with clear domed caps cemented to their faces. The cap can either be glass or quartz, depending on the quality of the opal. Not only does it protect the opal, but also magnifies the intensity of the colour and pattern, greatly enhancing the overall appearance of the stone.
Cross section of three different mines.
The sad side effect of opal mining that we saw all over the place.
I love diamonds, tanzanite and diamonds together, but opal no.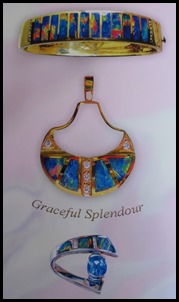 Or, If you like it, enjoy it - love it.
ALL IN ALL UNIQUE AND PRETTY, JUST NOT MY THING
VERY DIFFERENT TO WHAT I HAD EXPECTED
---