Beez Purrs

Beez Neez now Chy Whella
Big Bear and Pepe Millard
Mon 19 Oct 2015 22:57
Beez Neez Regains Her Purr
Tuesday the 13th. We got up to a very dull day. There is a massive low sitting off Fiji that is threatening to become a cyclone, way too early at six weeks before the official season begins. Mmm. We pottered around all morning putting all our bits away from our trip to Vanuatu. All we can do is hope Beez parts come from Belgium this week as promised. I'll take you for a lunch special, that'll keep our spirits up.
We bimbled over to the Boatshed Restaurant and I stopped to admire the huge wall decoration, a carved set of fish. Note the sailfish in the top left corner. I watched a huge but friendly wasp scruffing about, then thought no more about it.
Todays special was chicken and chips, at the princely sum of three pounds I certainly can't compete with doing proper chips on Beez nor could I buy the chicken for that. We sat and found ourselves looking out of ' the door'. So close. It was nice to see a chum though.
We watched a familiar girl coming in, watched the world go by and chatted, then bimbled back home.
By the time we got round to the basin Wind Dancer was snug in her spot. We have seen her several times out and about. A few minutes later we got back to Beez and Bear called Lorenzo, the boss. Our parts had come in late Monday night and Monesh would be with us in the morning. Yehaa. Bear was so happy he let me win at backgammon. Don't push your luck.
Wednesday. Bright and early Monesh appeared with a box of goodies. One bit had not come and I watched Bear's shoulders droop. Monesh promised that he could polish out the old bit and he felt confident all would be well. I feel I can trust a man who has a Beez coloured tool box and Beez does too.
The box of parts waiting for Monesh's ministering. The low continues to sit above Fiji so the sky remains dull but the humidity is cruel. I felt for Monesh as he sweated buckets trying to put the girl to rights. Bear was on torch duty. I busied myself sorting pictures and preparing blogs to keep 'cabbage patched'. At half past twelve Monesh needed a break, the box of parts had reduced and he now needed lunch. He was going to take an hour and once again Bear suggested we go for a daily special.
On our way past the office the Hairy Bum notice the girls had put up gave us a giggle.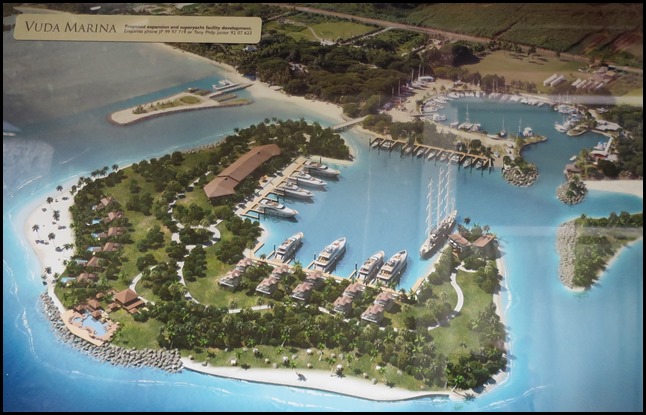 A picture of the proposed extension of the marina looks very impressive.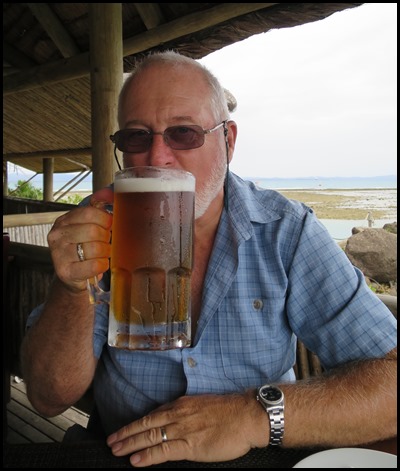 Today the 'big beer' was on special so it would have been rude of Bear not to partake. Good to see his smile of optimism. I feel Monesh is getting somewhere now. That was music to my ears for sure. Cheers.
We watched an American girl come in, there is a gathering of girls hoping to head to New Zealand on Monday, ten on the list so far.
Then a working girl came in. It's really nice to sit and watch the world go by.
Todays special – chicken curry, looked benign but should have come with a health warning. Lips numb we bimbled back.
On my way past I stopped to check if my lady friend had found a suitable place to begin her nest. She had, on the sailfishes beak.
In just twenty four hours she had created a safe haven for her eggs, which could we could see in each room.
All afternoon I watched the fingers of Monesh fly. The odd pensive look and the torch bearer in action. There were the odd very bad words and then I heard "turn her over, Bear". Bear leapt into the cockpit, rrrrr, rrrr, rrrr, "stop". "Again" rrrr rrr rrr rrr "stop". This seemed to go on for hours. Monesh worked well after home time and the sweating became more profuse but this determined young man was not going to give up. At one point we both looked at each other, on one of the turns we both heard the tell-tale hiss of compression leak. A very big, bad word from Monesh. Bear was blissfully unaware sitting by the key in the cockpit. Poor Monesh began taking things to pieces and rebuilding. I was slightly alarmed when thick grey smoke began billowing out of the engine. Bear reassured that it was just 'cleaning off' being done. Glad that was over, I heard the familiar "turn", rrrr rrr rrr r ........... chug chug chug. I could have kissed Monesh there and then. He had a big cheesy grin on his face, the first I had seen. He bade us good evening, asked us to warm Beez up and he would be back first thing to do his final checks. Bear was so thrilled he let me win at backgammon. In fact I was allowed a run of seven – yes seven wins. Grrrrr.
Thursday. Monesh came at eight. "Turn", chug, chug, chug. Music to our ears, the girl was back to purr mode. Absolutely thrilled. Bear was so buoyant he made me perfect eggs.
Friday. Can we leave ??? Freezer full, cleaning done, crew champing at the bit. Err NO, the low has decided to try and form into a real cyclone, winds really messy so we stay put. Rather than gnash our teeth we decided to go into town and buy some more DVD's, list under arm we bimbled up to the bus stop. We watched Brandy chug toward us and nothing better to do we counted her empty sugar trucks. One hundred and forty seven.
We were on the bus that went around all the outlying villages. A tractor made for a nice garden ornament we felt. Then we did a u-turn in the 'bus terminus' – actually someone's front garden, got to love the Fiji way.
This building has not changed in the time we have been here, so hope they do something with the overhang before the cyclone season really starts. The University of Fiji has a wonderful reputation in the southern hemisphere.
Love the twenty four hour ice-cream and grog shop.
Bit concerned about Lady Lot, but despite her jaunty angle we saw someone working on her on our way back from town.
Sunday. Bear's final egg event in Fiji. What a looker.
Monday. Finally the low that thought about becoming a cyclone dissipated, yeeha. We will wait a day for the wave height to settle then off on the morrow. Nothing for it but to go into town for yet some more DVD's, all the latest at a pound a film – bargain. The sun came out hot, very hot, things seem bright and happy. Laundry, deck washing and pre-journey chores and then sadly a loss for me on the backgammon board. About time, seven days, cheek. But I did go up fifty three dollars. Don't try to upset me. I'll leave you with my final sight...............Breaking Bad sprang to mind............. no comments but.............. I'll make it small to spare us all.............
ALL IN ALL COLOUR ME HAPPY
A HUGE SIGH OF RELIEF
---