Maumere Welcome

Beez Neez now Chy Whella
Big Bear and Pepe Millard
Sun 21 Aug 2016 22:57
Maumere Welcome Day
We shared a car with Catherine and John (Afar VI) and headed out of Sea World for the twenty minute journey, first to the ATM, a huge surprise was seeing a statue of a man in a kilt in typical attack pose...... The road was a good, straight tarmac affair busy with motorbikes and scooters with two or three people aboard........ and on to Roxy the Supermarket. Our driver spoke fairly good English and waited patiently with the other drivers for us.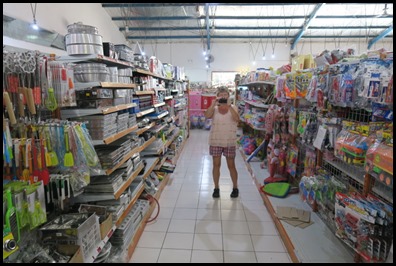 Children in a toy shop sprang to mind as we saw bright, exciting things – including sliced mushrooms at a price I haven't seen since Trinidad, crisps, bread, photocopy paper, whey powder and several sets of yachties all with the same _expression_ of wonder. Then I bumped into my favourite photo-bomber, Deb.
Deb had us pose and I'm sure some of you blog readers would like to see this as a permanent fixture........................
Bear thoroughly enjoyed himself.
Just as well we had a driver as we would never have guessed this was the town's main market. A place bustling with all sorts of fruit and veg but not to be bimbled about without looking down all the time as some of the thoroughfare was to be negotiated with some care.
I simply adored the fishmonger.
I stood and watched the jolly little man work for a minute or two before carrying on through the covered market in search of the egg man. We shared a tray of thirty with Afar VI paying one pound ten each boat.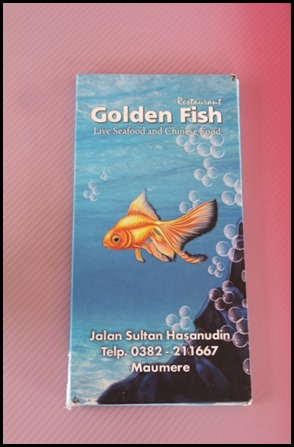 The plan then was for several cars to meet for lunch but Mary (El Gato) couldn't remember the name of the restaurant that had been recommended to her so sadly we didn't see anyone again. Our driver tried several likely establishments to no avail so he took us to one of his favourites. Walking through a huge tackle shop (would have loved an hour bimbling in there picking the owners brain for lure set-up etc.) we walked out the back to "choose your own fish". Some tanks had sad looking chaps, the far tank had two dead, one dying and a scared looking lobster of small size. We went upstairs and settled with our driver with the menu. A beer was the first order from the pleasant lady took our order after explaining what was what. The food was delicious and after our big splurge, seven big Bintang beers and two Sprite; the total came to forty four pounds for the five of us.
Children playing outside the restaurant.
We could see the rally yachts in the background (middle of the picture).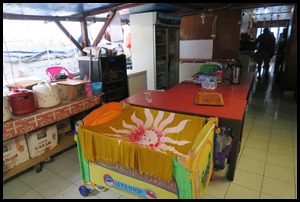 Walking back through the shop to the car there was a myriad of interesting things to see. Next stop – alcohol shop. Medicinal fluid purchased, it was time to head back with our many shopping bags. Once again on the beach by Sea World, we were met by Raymond (our Indonesian rally coordinator) who handed our very smart black tee shirts with the request to be back at six for a photo call prior to the festivities.
The evening began with a local band of traditional drummers, wearing sarongs - just up my street, chaps behind were clanging a cymbal type instrument and then ladies danced in wearing bells on their ankles. The older the lady, the more rythm.
After several dances the ladies got us all to join in. Next came a fashion parade and then we were called up to eat a buffet feast completed with a glass of local hooch. Very few speeches and more dancing until another local band came on. This group was accompanied by a big bass lookalike played with it laying down on a table. It looked like it only had one string but made for a very interesting sound that blended beautifully with the guitar-playing singers – all sounded remarkably Hawaiian. A really good evening.
ALL IN ALL A BUSY, FUN DAY
DIFFERENT DANCING AND DRUMMING
---