1929 LA Motor Show

Beez Neez now Chy Whella
Big Bear and Pepe Millard
Sun 24 Aug 2014 22:27
The 1929 Los Angeles Motor Show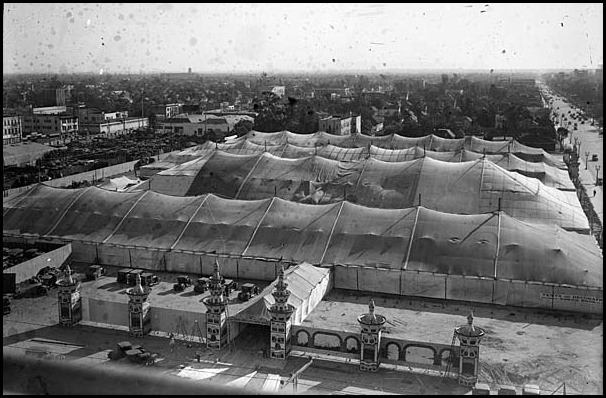 Had we not visited Warbirds and Wheels, we would never have been privy to this fantastic story. The panorama picture below was hanging on the wall, one of the wonderful displays we saw when we visited the amazing collection of cars and planes just outside Wanaka. We looked online and found the Los Angeles Times had covered the story.
Motor show fever was rampant in 1929 Los Angeles as preparations were being completed for the 16th Annual Show. Despite the refusal of the Fire Marshall, the organisers erected giant tents down-town – they sidestepped him and got the permit from the City Council instead.
The fire taking hold.
Rubber neckers watch in fascination.
The mess left behind when four tents that covered 150,000 feet of floor space. allowing thirty five manufacturers to display three hundred cars went up in flames.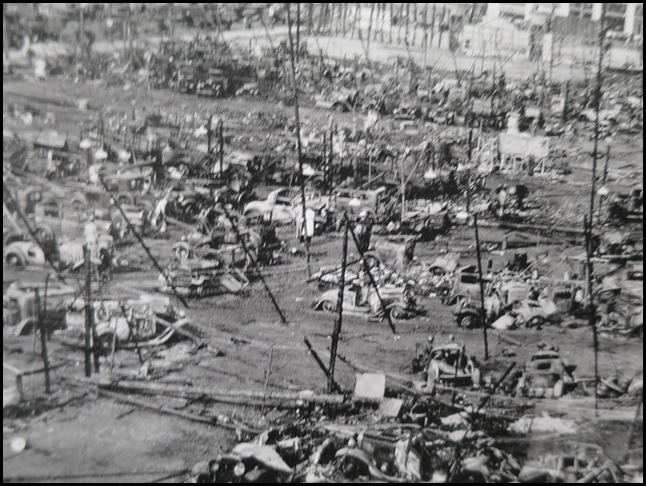 The show had opened to the usual fanfare on the Saturday the 2nd of March, and on Wednesday the 6th a handful of people amongst the small crowd of 2,500 browsing through the showground at 4:15, noticed a small tongue of flame creeping up the fabric and paper running up a tent pole. It is assumed that a cigarette end was the culprit that began the blaze that resulted in such a pitiful sight.
Fire extinguishers proved inadequate in reach to quell the flames, and the wind on the day took the flame across the other tents reaching cars and gasoline. Within minutes the fire was out of control. One official's car alongside his stand had run out of gasoline and he was on his way back on foot with a full can approaching the showground – its not reported which direction he ran.........
It took one and a half hours for the whole showground to be consumed. Miraculously no one died, and two electricians and a fireman were the only injured. Dealers stood helplessly watching their precious cars – and the valuable oriental rugs and vases they'd brought along to accompany them, go up in flames and smoke. The loss totalled one and a quarter million dollars.
No doubt the Globe Automobile Wrecking Co – to the top right, were celebrating the early arrival of Christmas.
Within fifty hours, a replacement – fireproof venue was ready and replacement vehicles – devoid of gasoline..............were on show.
The Mercedes dealer was lucky – his cars turned up too late for the fire. The Cadillacs, cords, Auburns, Stutzs and Lincolns etc were not so lucky. And two historic cars, a 1907 Packard "30" Roadster – which had 510,000 miles without mishap and a 0901 Packard Model "C"were lost. Both insured but irreplaceable.
ALL IN ALL WHAT A TO DO
OOPS
---