Easter Sunday

Beez Neez
Skipper and First Mate Millard (Big Bear and Pepe)
Sun 8 Apr 2012 22:27
Easter Sunday in North Devon
Spoiled Bear gnawing his favourite turkey neck........
.........as Sue fights womanfully in the corner
All Roger and Sue's grandchildren settle for lunch together. Joshua, Keira, Jack and Sam. Then it was time to egg hunt.
Jack hard at it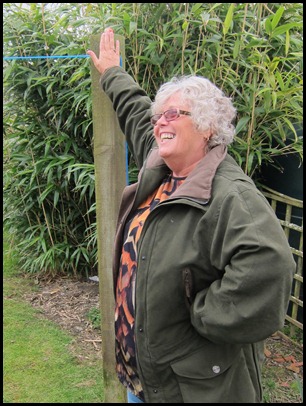 We even found real eggs in the stinging nettles. Sue gives a clue to a difficult egg. Chris suggests rugby – no lets go in and have a sherbet as its turned cold
Time for eggs. Jack cracks his successfully on grandpa's head - Bear (with his sherbets on board thinks this is a great idea). Now Kate is still recovering from the most awful tonsillitis but that didn't stop her dad, an almighty CRACK as Bear's egg came into contact with the said poorly ones head. Not a dent.
Paint Kate's face a deep shade of puce.
See bear slip out for another glass of red wine.
Behave Bear, behave
Jack, Sam and Josh got stuck in to the business of egg eating.............
but Keira wins the funniest prize
We get our birthday presents early from Kate, Mark and Jack so they can see our faces. I get a fantastic bee bag, fits my travel stuff beautifully and I adore it.
Mayhem and fun before the little ones go to bed
The brother-in-laws – Mark and Chris looking grown-up ???? not for long. Bear using Roger as a foot stool
A quick hug for Roger just before Sue slapped him for 'being lippy'
At some point later we got the new names Cagney and Lacey
ALL IN ALL SOME DAY
---