BofP Sea Eagle and Comical Owl

Beez Neez now Chy Whella
Big Bear and Pepe Millard
Sun 1 Dec 2019 23:57
The Sea Eagle Star and the Comical Owl at the Bird of Prey Centre
As we took to our seats for the show we saw a chap sitting on his own behind a little pond. When he stretched his wings we could see that his left one was in a bad way. So he sits and watches the goings-on.
His wife came out for a star turn.
A tasty morsel was thrown into the pond and down she swooped.
Just a little ripple left.
She landed on the show stump with her booty.
The audience was allowed to stand in front but I wanted her rear view.
Such grace.
Time for a stretch.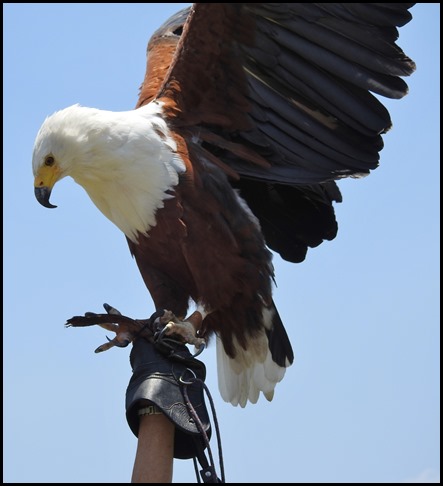 Simple portraits.
Time for a strut.
Enjoying her morsel.
After the show we could get up close and personal to her.
Powerful feet.
A lovely bird to get so close to.
Out came the Cape Eagle Owl.
He strutted his stuff........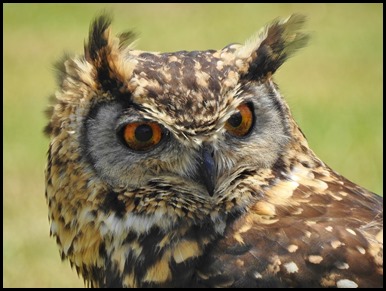 ......and had a good look about.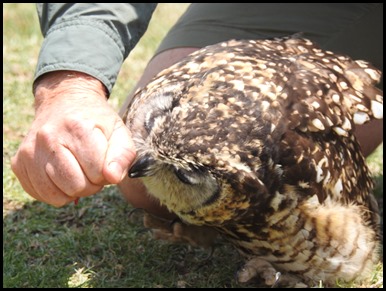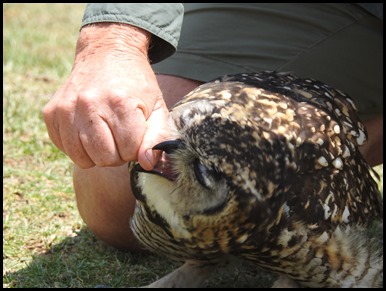 Then he had us all in fits – shame really, he knew there was a treat in the hand for him, but up close Mr Magoo springs to mind. He could smell it but couldn't see it. He pecked about (gently) but to no avail.
Then he kind of shrugged......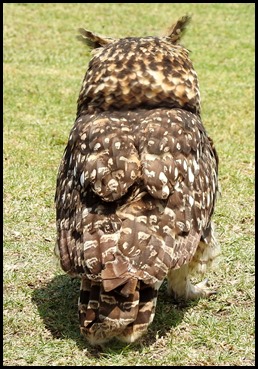 .....and went in search of a treat.
Flying in and landing, he got his reward.
Lovely.
We left the Bird of Prey Centre and fulfilled a promise, if the boys behaved patiently, we would go to taste beer at the Drakensberg Brewery. Soon settled, the boys were keen to 'get to it'.
The four beers.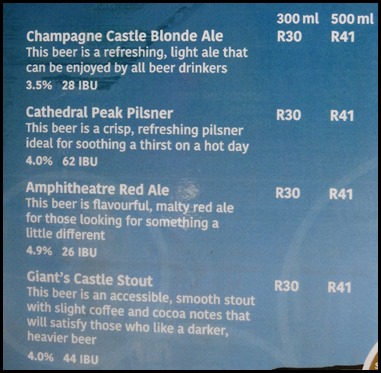 Their write-up.
Boys now smiling, Kimi diving in.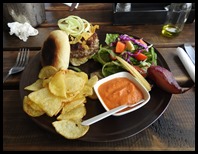 The food was wonderful. I stuck to rose wine but thoroughly enjoyed the taste of the stout. The other three discussed the beers and had a bigger helpings of their favourites. Then we took in the little parade of shops, bought local chocolate and returned to our digs to sit by the pool and absorb the amazing view – with a few sherbets, of course.....
ALL IN ALL SIMPLY GORGEOUS
A FANTASTIC DAY
---