To Livingston

Beez Neez now Chy Whella
Big Bear and Pepe Millard
Fri 21 Dec 2012 23:54
To Livingston At The End of the World
The gorge was as gorgeous as ever
Herons watching on the corner and Baby Beez trotting happily behind.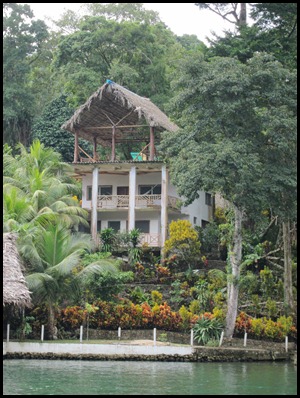 Anchor up and off at a very gentle pace at ten o'clock. High tide not until just gone three so no hurry. It very much appealed to our sense of humour to not only begin our first passage of the season on a Friday but on the last day of the Mayan calendar. Various documentaries have said "end of the world as we know it", "the earth is due to fall over by 18 degrees", "weather will never be the same" and generally anything to alarm ordinary folk. From the sound of the party crackers the locals are taking this event in their stride, as usual and making a bit of a party out of it. A group has gone off to Tikal for great religious ceremonies and we are seen quietly heading down to Livingston to log out and be on our merry way.
Almost to Livingston things looked much as we had left it six months ago
Bear did admire the exhaust system on this little fishing girl
and an odd looking girl
In the most of simple terms, this time is solstice. The 21st of December 2012, marks the end of the 13th Baktun and it marks the beginning of the 14th Baktun. The significance of this 21st of December, is this calendar's end and this particular 13/14 Baktun transition, is that it marks the end of a 26,000 year galactic cycle and begins the calendar of the next 26,000 year galactic cycle. Won't see the end of that one then.
See Pepe shrug and reach for the winch handle
Duck Bear, Duck
After finding ourselves at the very special time of the Maya calendar's end, this is what we learned: In another 395 years, the 15th Baktun will arrive, then the 16th and so on. There will be more Maya calendars and more celebrations clearing the path for change. One happy side note for us is that the last 26,000 years were considered by the Mayas to be the Night. The next 26,000 years they tell us will be the Day.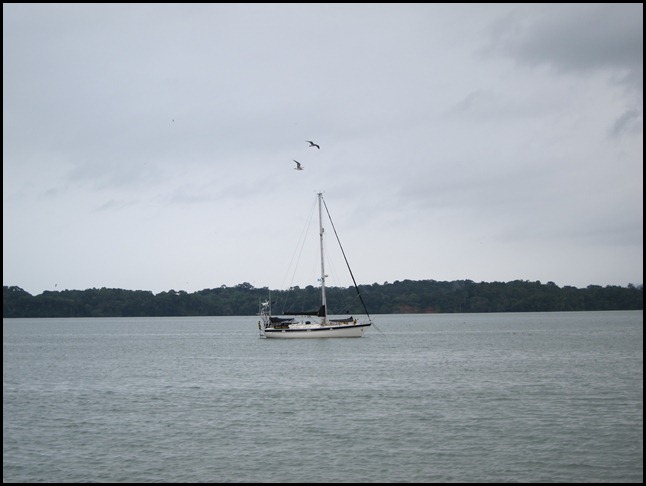 Hello Sunshine. Well that was just not to be. We anchored in Livington as the gray clouds were gathering. Bear went ashore to deal with logging out and I settled to make a carbonara for the passage. Bear was back reporting shocking weather and that we were going nowhere. Right then. Nothing for it but to up anchor and move back up the river a little way to hide behind the old fuel pier.
Down came the rain a few minutes after we had anchored. And it rained.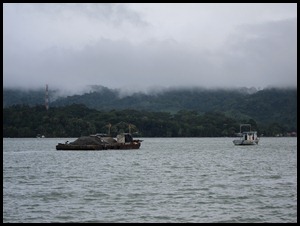 And it rained. Visibility dropped. A little tow limped past and still the clouds leaked – all night long.
ALL IN ALL NOTHING FOR IT – BACKGAMMON AND VICTORY
Mmmmm NOT IF I CAN HELP IT
.
.
---