We Splashed

Beez Neez now Chy Whella
Big Bear and Pepe Millard
Tue 30 Nov 2010 23:03
Beez Neez Splashes
Nearly ready for the off
We were up bright and early on splash day booked for 11:00, so we were shocked to find the boys at the door at 09:30. But this is Trinidad we didn't think anyone was ever early. Laughing they went for a cuppa.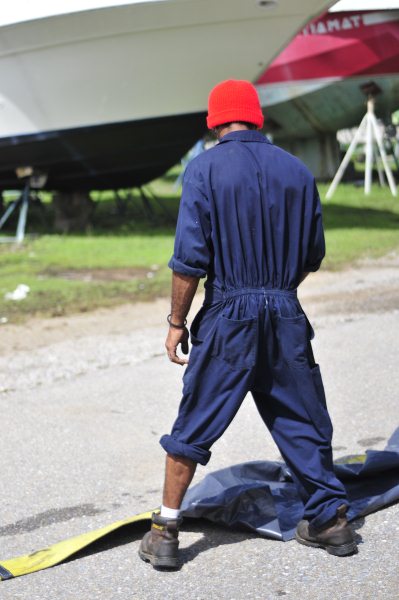 When the boys returned they set about putting new plastic on the strops to protect the girl from getting scratched. Jason showing a bit of leg in a new fashion statement
We think the trusty and overworked yard vehicle will soon become a candidate for the 'one careful owner'
A closer look. Time for a bit of fun as one of the other chaps lifts the strop and surprises Steve
I asked the boys to pose which they happily did. I called this - 'you may love your friends but watch your back'
Strops in place. Bear putting anti-foul where the chocks had been, now ready for the off
Sean at the controls, Beez gently leaves her temporary dry home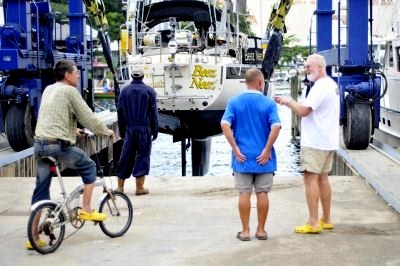 Round the yard under the watchful care of Steve and Jason. Francois (Equa Regis) ready to cycle to the quayside to take our ropes and Anthony (Wild Fox) ready to board to rope the pillar
Finally Beez gets her lowered into her natural habitat
By late afternoon, outer working cover in place, Baby Beez faithfully at her side. The girl looking great
Um - just a bit to do inside. All cupboards emptied for cleaning and sorting. All brass down for cleaning. A bit more varnishing and we should be ready to go within two weeks. Bear is afraid to stand in one place too long if I am armed with a paintbrush. We will leave here to Christmas in Bequia just as soon as the girl is spick and span inside and out.
ALL IN ALL SIMPLY FANTASTIC TO BE BIB-BOBBING
I JUST NEED TO FIND MY SEA-LEGS
---