Coral Cove

Beez Neez
Skipper and First Mate Millard (Big Bear and Pepe)
Sat 20 Mar 2010 23:34
Coral Cove
On the 18th of March we finally left Charlotte Amalie after three weeks getting the triple A battery story concluded. Just as we exited the harbour, who was entering next to us putting their sails down - Freya of Clyde. We had an alongside chat, a first for us. We were sorely tempted to return in with them to share a sundowner and relay all the Morrison's AAA story (the alternator saga as it is known aboard Beez Neez). Much as we love Anne and Alan the feeling of seeing open sea was the greater pull after being effectively stuck in one place - a wonderful thing if you choose it - horrid when you have no choice. So off we motored toward St John for the twenty mile journey to Coral Cove. The rock before we turned into the bay.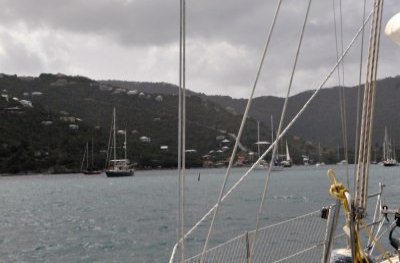 There was an anchorage to our left - Concordia but we headed on toward the main anchorage.
We jumped up the next morning to catch the bus into Cruz Bay to check out with Customs. Another first for us was seeing a house in the middle of the anchorage - actually a motorised floating cafe.
Baby Beez safely on the dinghy dock, floating cafe in the background, off we went in search of the bus stop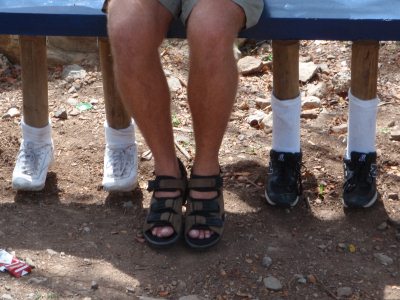 The bus stop was yet another first; feet. Bear posed with an imaginary friend, I have always wondered about him...............
We got on the bus, fed the one dollar each into the ticket machine, never done that before and settled for the hairpin bends, in fact hairy ride to Cruz Bay which took half an hour. We identified where I would be able to get a view of Coral Bay on the return journey. I didn't want to take the Beast and forgot how long it takes the little chap to get a shot, so after several nice shots of bushes I finally got this one. Beez Neez is the furthest boat out.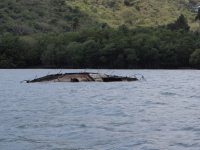 When we got back asap from Cruz bay, the town, (in fact the whole of St John we find quite soul-less), Bear took me for a spuddle around the anchorage. Coral Cove is known as a hurricane hole, I would rename it Tish Hole. Way back when we saw dead and dying boats in Cape Verde we have always hated boat graveyards and this was certainly the worst we have ever seen since. All round the anchorage, even toward the centre are hulls in terrible shape. The last picture is a hull with not only a whole reef on her bottom but could find a new job as a mussel farm.
The nicest thing we saw were the Coral Cove Fire Trucks. These beauties were in tip top shape and very sparkling. A credit to the boys who care for them.
ALL IN ALL GOOD TO BE ON OUR WAY AGAIN
---