BNP Gulabkali

Beez Neez now Chy Whella
Big Bear and Pepe Millard
Wed 18 Apr 2018 22:57
Gulabkali at the Bardia National Park
This is Gulabkali a female born in 1956 and bought from Sarlahi. The information board read: Elephant is an umbrella species. It is also called the ecosystem engineers, as it helps in transforming the forests, providing the micro-habitats for the invertebrates, dispersing the seeds and maintaining the habitats. Hence, conserving the elephant population can help in conserving the entire forest or habitat. It is estimated that Asian Elephant is distributed within 19 districts of Nepal and found in all the protected areas of the Terai region.
On our visits to the park we saw her each morning and evening.
Asked by her handler to get down, she did, in quite a laborious fashion.
Once down she tucked up her trunk and waited patiently. On went her single seat saddle.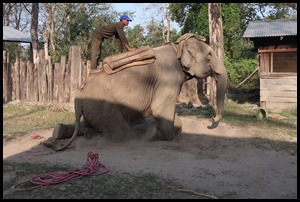 Once in place, up she got.
Asked to pass up the rope, she did.
Tightened up.
We saw her a little while later – carer and one passenger, hope this is her only job of the day.
Another day we saw her going to work with a seat for four.
By chance, we walked by later that day to see her laying down waiting to be unsaddled. Wonder what is going through her mind – contentment, boredom, depression, sadness.......difficult to know.
Bear got to have a little stroke and she raised her trunk in a pose.
Judging by her carers posture, the seat is incredibly heavy.
A big yawn.
Time to get up.
Chained under her shelter.
Wraps of grass, hope there is something nice and tasty in the middle........
We left her to her supper. Hoping she was born to this life – not broken to it........ Time to go and meet a blind rhino called
Vikram, across the path to her left.
ALL IN ALL A GENTLE, HARD WORKING GIANT
VERY MIXED FEELINGS
---