To Inwa

Beez Neez now Chy Whella
Big Bear and Pepe Millard
Mon 27 Nov 2017 23:07
To Inwa or Ava
Our driver parked the car and led us along a narrow road in the process of being sealed. He bade us buy ferry tickets to the other side of the river and said we should then hire a horse and cart. OK then, off we went.Our ferry soon docked and once aboard we could see the old Ava Bridge behind the longtails huge engine.
A few minutes later we had docked, walked up a steep natural bank, read the welcome sign and faced complete chaos.
Hundreds of horses and carts. A man found us, we handed over seven pounds and picked our way through the melee.
We managed to climb aboard our allotted chariot without getting messy, but oh, the mud.
Off we went, horses and carts as far as we could see.
Once out on the track it was quite pleasant trotting along the narrow track.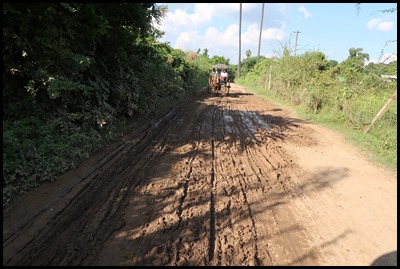 Looking in front and behind as things got very bumpy.
Very green countryside.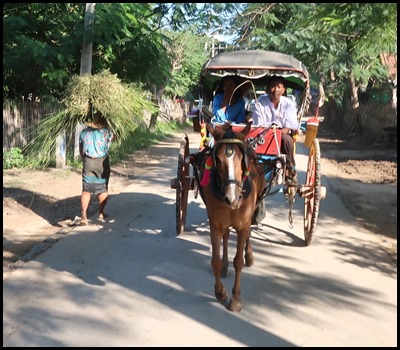 The lady in the left picture carrying a huge amount of grass as we compared horse and machine.
A hungry chap more interested in eating than working.
We had come to Inwa to see four historical sites.
Along with Mandalay, Inwa
(or Ava as it was previously known) is perhaps Myanmar's most famous old capital, situated twenty kilometres south of
Mandalay
. The heart of government and royal power on five separate occasions from the 14th to the 19th centuries, Inwa was finally abandoned in 1839 after a series of devastating earthquakes.
A bit of gentle weeding in the canal. Our driver passed a very crowded parking area at one of the pagodas, preferring to start our tour at a monastery further on.
The biggest challenge of the trip was the detour - a six foot, steep drop that our horse Nanya had to brace herself for, the squadgy mess at the bottom and the equally steep upward bit to get us back on the original track. On our return jaunt a taxi truck got stuck and this horse and cart came to a standstill. The little lady simply didn't want to do the final bit, sensing it was nearly the end of the day.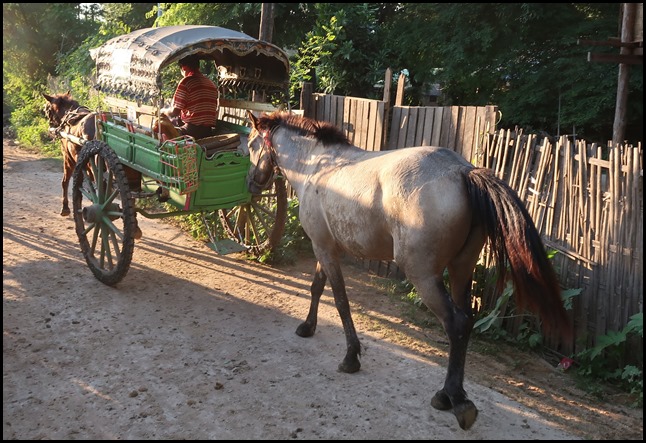 On our way back it was nice to see horses going 'home' after a very long day.
Our final ride was thankfully a short one but still so very muddy.
A similar chaos for our driver to get us back to be near the ferry dock.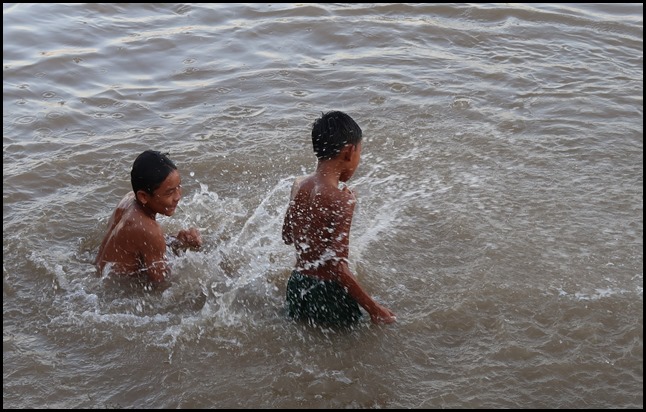 A busy time of day, we had to queue for the next ferry. Lovely to be entertained by a couple of youngsters playing in the river.

A motorbike and several bikes got on before us. The Ava Bridge looking pretty in the late afternoon sun, soon back over the other side, passing a traditional house and finding our driver.
ALL IN ALL A FERTILE AREA AND GREAT TOURIST TRAP
ISOLATED AND PRETTY COUNTRYSIDE AROUND THE FORMER CAPITAL
---