Ōkārito

Beez Neez
Skipper and First Mate Millard (Big Bear and Pepe)
Sat 30 Aug 2014 22:17
Ōkārito – In Search of a White Heron Colony
We pulled off the main road at Ōkārito, nothing white or featherd to be seen, so we went to explore the village.
This is it. A nice looking little place with the estuary behind us and the sea to our right.
A mix of old and new, for the thirty permanent residents.
We drove to the end of the street and found the beach. The sign said 'for 4WD' but there was a four foot drop to get from the sandy track down onto the beach itself, clearly not for Mabel. Looking left, not a soul about.
Not a War memorial but one to Pioneers and James Cook.
Just loved Albert's Hut.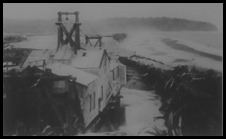 Mining history:
In the spring of 1865 miners flocked to Ōkārito in search of gold. Prospectors had been to this region before, searching the rivers, but now the previous metal had been discovered in the black sand beaches and the rush was on.
By Christmas 1865, Ōkārito was a township of eight hundred people and thirty three stores. Three months later, the population was fifteen hundred. Another two thousand five hundred people sought their fortunes just south, at Three Mile and Five Mile beaches, both of which had their own stores and hotels.
By the end of 1867, the miners had worked out the black sands and Ōkārito, Three Mile and Five Mile were virtual ghost towns. Those who stayed moved back from the beaches and built massive waters races to aid sluicing and later to run dredges.
Little remains now. A few bits of rusting dredgers are mostly hidden in the swamp, and on the track to Three Mile Lagoon or the beach to Five Mile, it is possible to see some relics of the gold days – reminders of the human industry once here.
Peter and Alec Graham, famous New Zealand mountain guides were born at Five Mile and Three Mile respectively, they attended school in Ōkārito in the 1880's. Their father, who sailed in an open boat, was a baker at Five Mile and later became ferrymen at Three Mile. Their mother, a nurse, worked at Hokitika and Ross before moving down to Ōkārito and Five Mile.
After the gold rush Ōkārito supported flaxmilling industries. Silver pine extraction continued until the 1950's.
The timber-framed, weatherboard-clad building now known as Donovan's Store was built during the time of the first West Coast gold rush in the 1860's. Trading initially as the Club Hotel. Donovan's was converted into a store in 1895 and is considered to be one of the oldest buildings on the West Coast.
DOC began restoration of the building in 1994 and has worked closely with the Ōkārito Community Association on this project.
"It is 1866, height of the gold rush, imagine a bustling street frontage of theatres, hotels and bond stores. Prospectors are arriving daily on ships Bruce and Ballarat, swelling the population. Against this backdrop a weatherboard building is quickly constructed from locally milled rimu, kahikatea, North Island kauri and imported Baltic pine, and opens its hotel doors to newly arrived gold-fevered prospectors".
Today Donovan's Store is a Category 1 Historic Building, a place or site of outstanding historical significance or value.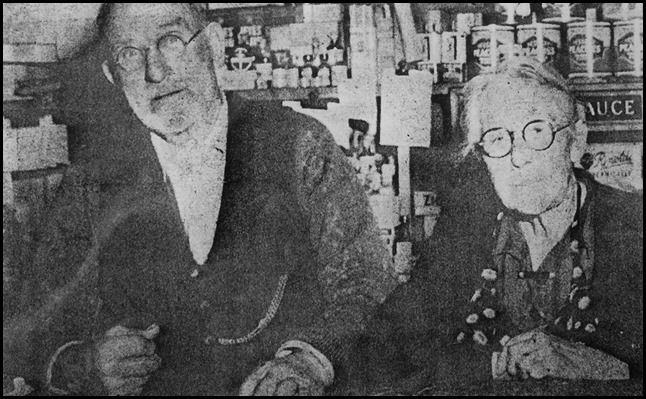 James Donovan bought the building around 1890 and opened a general store selling everything from 'axe handles to ten bottles of pain killer a year'. Parts of the store were rebuilt after a tornado strike, but the current front gable is known to date from the Club Hotel days.
The Evening Post, 5th of November 1955:- When sawmills, the harbour and Ōkārito itself are booming again, another memorial should go up smartly, to the Grand Old Master – Jimmy Donovan and his wife Eva, both dinkum New Zealanders.
Jimmy Donovan was born in Hokitika in 1867 and attended his first gold rush, with his parents, at the tender age of six weeks. This connection to the frontier communities continued throughout his life as he lived and worked with miners, millers and farmers at Whataroa, Mapourika and Ōkārito. While his life will always be closely associated with Donovan's General Store, which he and Eva ran for more than fifty years, it was his commitment to the advancement of South Westland through which he gained true respect.
Jimmy's commitment to local body affairs was truly remarkable. During the last thirty years of his service as a Westland County Council member he missed not a single ordinary meeting. Attendance at each meeting meant a ninety mile trek to Hokitika, which he mostly did on horseback. At the of his death, in 1956 at the age of eighty eight, he was the oldest local body member in new Zealand.
One newspaper said:- Without a doubt no man knew South Westland more intimately than he and no man had the interests of that district more deeply at heart.
The subsequent owners of the store were Mr. and Mrs. Keith 'Robbie' Robertson who continued to open the store twice a week until about 1985, selling mainly confectionery and drinks. They bequeathed the land and buildings to the Department of Conservation in 1987.
On our way out of the village we popped into hub of today's social life, the coffee shop. Wonderful sign.
Recent history: Ōkārito remained the main service town for South Westland for many years, until the inland road through Harihari and Whataroa meant that a port was no longer required.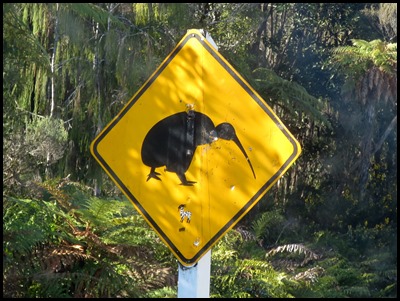 Wildlife: Thousands of native birds (more than seventy six different species) visit the Ōkārito Lagoon and many make their home in the vicinity, including the famous white heron/kōtuku and royal spoonbills.
White heron: The kōtuku is sacred to Māori and its only New Zealand breeding colony is north of the Ōkārito lagoon on the bank of the Waitangiroto River. The breeding site is a nature reserve, open from late October to the end of February and requires an entry permit.
Rowi: (Ōkārito brown kiwi), the rarest kiwi, is critically endangered with approximately three hundred and fifty in existence. In 1994 they were found to be an entirely new species (one of five kiwi species) and given the name rowi. Rowi are presently confined to South Ōkārito Forest and its proximity, but they were once distributed over much of the lower North Island and upper South Island. In 2000, South Ōkārito Forest was designated one of New Zealand's five special kiwi sanctuaries, and Department of Conservation staff are involved in an intensive kiwi recovery programme to bring this species back from the brink of extinction.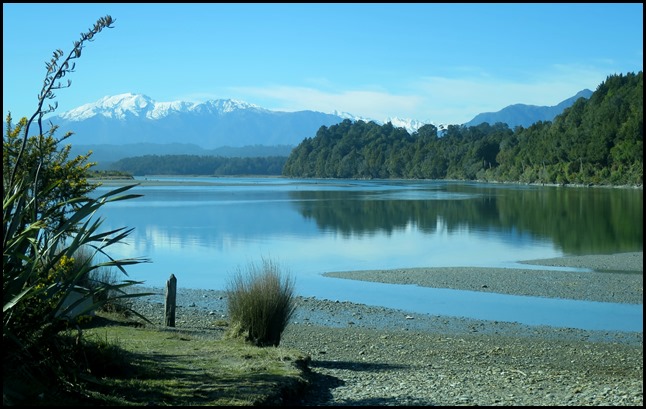 We drove back to the lagoon.
Then we followed the river out of the village and back to the main road, so pleased we had popped in.
ALL IN ALL A TINY, PEACEFUL HAMLET
HERONS AWAY ON HOLIDAY THOUGH
---