Visa & Sunset

Beez Neez
Skipper and First Mate Millard (Big Bear and Pepe)
Wed 11 May 2016 22:57
Visa Applications and Sunset
Yesterday Jim and Pam came over for sweet and sour chicken aboard Beez. The men of course had to raise a glass of a certain named beer to celebrate.
This morning John and Lyn – rally organisers, sent through an email with all the details necessary to send off our Passports in order to get our Social Visas for Indonesia. We spent the morning printing out the forms, sticking on Passport pictures and then off we went in search of the Post Office - what good luck that we were here in Tin Can Bay as goodness knows where we would find the next one. We knew it was about a mile away, well colour Bear happy as we crossed the road and found something that got his trigger finger at the ready.
The gun was a small part of the big area set aside for the War Memorial dedicated to the fallen locals.
At the Post Office we bought a money order for AU$140 added a stamped addressed envelope for Cairns and sent off our Passports, that done we popped into the IGA shop for some bits and bobs and walked back home via some happy toilets. This afternoon Bear fitted a new float switch for the grey tank so we don't have to remember to switch it on manually every time we clean our teeth.
I was sorting out pictures when suddenly everything went pink indoors. Outside it was too..........
A wow of a sunset had begun. Through the dark shades, back to blues and by the time we went for a shower dim pinky-greys.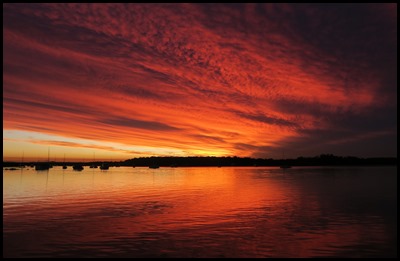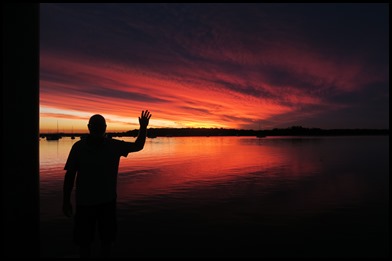 ALL IN ALL A PRODUCTIVE DAY
A GOOD DAYS WORK WITH A BEAUTIFUL FINISH
---