To Pohara Beach

Beez Neez now Chy Whella
Big Bear and Pepe Millard
Fri 12 Sep 2014 22:57
To Pohara Beach
We left our pretty little camp at Murchison, the only people to leave as we were the only campers.
As we got going, so did the clouds.
A field full of gliders. We turned off to do the country route to St Arnaud.
We stopped at Nelson Lake to feed the ducks. Bear has a new friend, she wandered up slowly, stood peaceably in line with the ducks and waited her turn. When offered she took her bread gently. Her husband stayed away, Bear did try to throw him a morsel, but, it hit his beak and a duck pinched it. He really didn't have a clue what to do. Then the bities got brutal and we withdrew to Mabel. A family turned up just then, and two very leggy young ladies leapt out of the back of the vehicle. One made it to the lakes edge, the other took four steps and no sooner than she appeared than she was back inside. Very comical but how rough. It's bad enough now but we can just imagine getting all set up for a lovely lakeside picnic and the bities find you, day ruined. When we got going in Mabel we had a few new bites each to our collection, always feet, so itchy.
How can such beauty be so spoilt by a creature no bigger than a fat pin head.
Next stop was Tophouse, established in 1887, a motel.
The Tophouse boasts the smallest bar in New Zealand, sadly closed at this time in the morning. A rather handsome 'one carefully owned' cart in the garden.
The rolling hills gave way to various trees to solid fir trees.
Then some very pretty trees.
Must be approaching the wine growing region on the outskirts of Nelson, loved the Great Escape sign. Then we saw the vineyards as we started to go up towards the clouds. Back into countryside.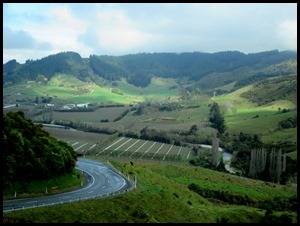 We began a steep rise, looking back on the wiggly road and higher still.
Make that ear poppingly steep.
Mmmm.
In Takaka Hill Scenic Reserve, this is Harwood Lookout, beautiful, some say breathtaking views................
After a few miles giggling at the scenery we began to drop and slowly saw more.
Nearing sea level we saw a random tree.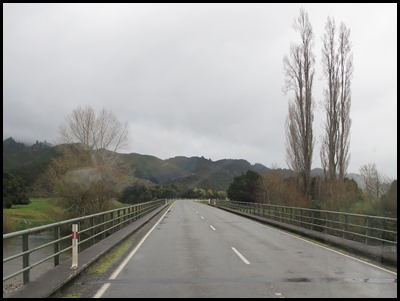 Raining and dull, we crossed our last bridge over the River Takaka.
Things got very grey, very wet and we have to rely on a picture to say where we are. Pohara Top 10 as there are no freedom camps. Snuggled in Mabel, rain hammering down, warm enough not to need electric blankets, supper and a couple of episodes of NCIS Los Angeles.
ALL IN ALL OUR FIRST VERY WET DAY
SURPRISINGLY INTERESTING JOURNEY AND VIEWS ???
---