Dick's Place

Beez Neez
Skipper and First Mate Millard (Big Bear and Pepe)
Wed 5 Aug 2015 22:57
Dick's Place Ashore
We actually woke up to sunshine, no wind, blue skies and Sheer Tenacity looking good at the front of the pack.
Knowing the weather is due to turn nasty by Thursday we have been hoping for a buoy to become available. Bear went ashore to collect our filled gas cylinder and in a flurry of activity raced home to say we were moving in five minutes. Steve was sitting holding buoy number 16 and helped Bear with the ropes. Looking at Beez sitting in the sunshine it's hard to believe that storm force winds from the north are due.
An adrenaline lady is safely tied and wash day on a happy coloured lady.
Well, within a hour Scott-Free was also on a buoy. This is excellent news as we all fancy going on a land tour to escape the weather.
We went ashore to enjoy the sun and see the world go by, well in this case a coconut frond.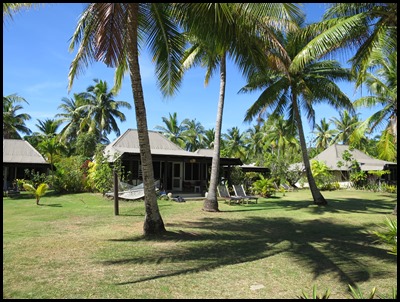 We walked past some holiday chalets and along the well kept path.
We met Rod and Mary at the beach, it was lovely to have the crews of Beez, Scott-Free and Sheer Tenacity back together. Sitting by the pool in Dick's Place, chatting with friends, Bear had a sandwich and I had a burger.
We sat down to the tide in but by the time we had finished lunch it had gone out quite a long way. Bear had a snooze and I went to explore the puddles. Tiny beige starfish, little fish, fiddler crabs, cucumbers, enough to keep me occupied until it was time to have a paddle in the pool.
Feeling content in the sun we saw a tray of cocktails being delivered, we had to have some ourselves and soon a lovely lady came our way. The first mudslide since the Caribbean, not as thick, not as good but it certainly was a treat.
Maj ordered a strawberry marguerita that was a handful to keep up with as it melted.
We had showers and en route for a sundowner we stopped to watch these chaps feeding in circles.
Bear and Steve followed the cocktail line with a Planter's Punch, I took a sip and it tasted like Veno's cough syrup. I went for an easy pina colada.
Not that dusk shows it but at six o'clock it was if someone flicked a switch and suddenly a chill wind blew up. Time for home.
ALL IN ALL WONDERFUL TO SEE THE SUN UNTIL THE WIND CAME
SUNNY PARADISE AT LAST
---