Sloppy Joe's

Beez Neez
Skipper and First Mate Millard (Big Bear and Pepe)
Tue 8 May 2012 22:57
Sloppy Joe's, Duval Street, Key West, Florida
Sloppy Joe's is in the 1000 Things book, so in celebration for not calling out Tow Boat US (the AA of the Intracoastal Waterway) and being in our last port of call in the USA, we nipped in for a cocktail.
Bigger crowds than we are used to in a noisy hubbub of cruise ship patrons
Bear settled for a beer, I had a Strawberry Daiquiri
Sloppy Joe's Bar was born on the 5th of December 1933, the day after prohibition ended. The bar was destined to go through two name changes and a sudden change of location before it would become today's Sloppy Joe's Bar. Joe Russell was the original proprietor and the bar was called the Blind Pig located in a rundown building that Russell leased for three dollars a week. Upon the addition of a dance floor, the name changed to the Silver Slipper. The bar was a place of shabby discomfort, good friends gambling, fifteen cent whiskey and ten cents for a shot of gin.
It was suggested by Ernest Hemmingway; a favourite patron of Russell's from the very start, to change the name to Sloppy Joe's. The new name was adopted from Jose Garcia's Rio Havana Club which sold liquor and iced seafood. Because the floor was always wet with melted ice, his patrons taunted this Spanish Joe with running a sloppy place..... and the name stuck.
Next, Bear fell into a 'Pain in the Ass', served by our nice server – a lady originally from Nottingham. She put extra rum on the top..............
We enjoyed the talented singer, the atmosphere and the surroundings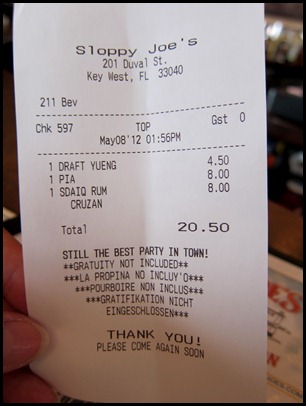 I have never seen such big jars of cherries. The bill came and we left. A cruise ship 'fin' just visible at the end of the street.
ALL IN ALL A GOOD THING TO DO
---