Iluka Ashore

Beez Neez now Chy Whella
Big Bear and Pepe Millard
Thu 14 Apr 2016 22:57
Our First Visit to Iluka
We haven't had an egg event in such a long time, so something a bit unique – pictures in black and white.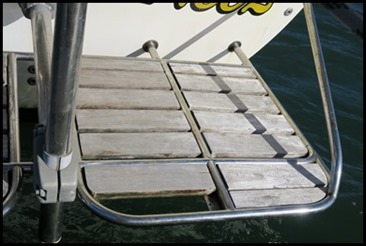 We spent the morning doing a few chores. Bear found that our courtesy flag had left us some time during the storm at sea so up went our red spare. Next, he saw one of our slats on the stern platform had left home..........
We watched a fishing boat come in.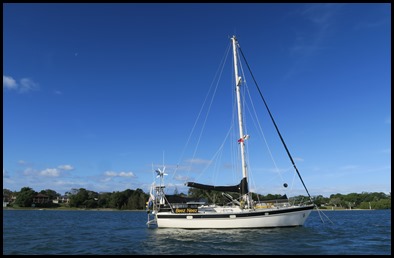 We took a turn around the girl and off we went for a little bimble ashore.
Iluka
(an Aboriginal word meaning 'near the sea')
is a small village at the mouth of the

Clarence River

directly across the river from the resort town of

Yamba

(taking the ferry across on the morrow). At the

2006 census

, Iluka had a population of 1,739 people, there are
long beaches on the ocean side of the river and this popular tourist destination increases numbers slightly in the holiday season with many Gold Coasters in the summer and Victorians in the winter.
Iluka has a world heritage listed littoral rainforest - one of the last remaining littoral rainforests in the Southern Hemisphere. There are many different plant species ranging from coastal dune to tropical rainforest species. The Iluka rainforest has a vast range of native animal species ranging from wallabies and kangaroos to wombats and echidnas. Iluka is famous for the extremely rare coastal emu.
(A Littoral Rainforest is a closed forest ecological community recognised by its close proximity to the ocean (generally less than two kilometres) and closed canopy (i.e. ~70% of the sky obscured by tree leaves and limbs). Vegetation structure can range from low thickets in wind exposed environments to tall forest in more protected sites).
We found a really good floating pontoon to tie Baby Beez (on the left), a few people were fishing off the end and a few along the seashore. In front of us, one of the two pubs of Iluka.
The Sedgers Reef Hotel, there has been a hotel on this site since 1874 with a colourful history....
To our right the marina.
Ashore I saw a sign – will he do ????
We got no further. We met Pam and Eric – Pied a Mer III. We had seen their catamaran parked in Nelson Bay and today we were soon settled in the sunshine outside this famous watering hole for local fishermen. It is known that a few tight-liners have 'got stuck' downing several over stories of 'the one that got away', ending up at the fish co-operative to purchase a few fish to take home – proving they had had a busy but successful day........ wonder how many other halves smelt the breath as opposed to those who got away with it. We all got away after a couple, bidding 'farewell' to Pam and Eric who are off northward.
I read the sign as Consumption of alcohol prohibited in the dark to which my friend suggested in case you miss your mouth............. don't comment, I didn't.
We bimbled toward the marina, mostly home to many fishing boats, ahead was a fish and chip shop, date night......Bear had a fish platter at four pounds and I had snapper and chips for three. Iluka is a fishing community with many commercial fishing industries, ranging from the oceangoing prawn and whiting trawlers to the river netters and trawlers. The river and beach netters can be seen hauling in mullet during the end of autumn.
As well as being a fish and chip shop, there was a fresh fish display at reasonable prices. As we waited to place our order another girl came in.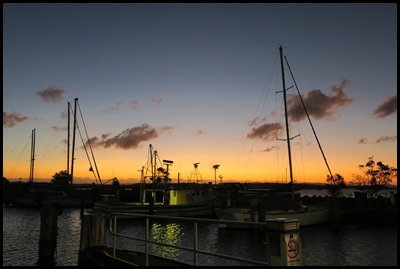 Very delicious food.
We sat and enjoyed the sunset and hoped to see some bats.
Iluka also has a birthing colony featuring the Grey-headed Flying Fox (Pteropus poliocephalus) – seen in Justin Welbergen's picture and the Black Flying-fox (Pteropus alecto); both are listed as being vulnerable to extinction. At night in October through January mothers can be seen flying out to feed at night with their babies. Sadly, not a one to be seen, so back to Beez, a five three win at backgammon – only gaining six dollars, then yet another thrashing at Mexican train dominoes. Huh.
ALL IN ALL A REALLY GOOD DAY
GOOD DAY, EXCELLENT PUB
---