Titusville Bimble

Beez Neez
Skipper and First Mate Millard (Big Bear and Pepe)
Sat 18 Feb 2012 23:27
Titusville Bimble and Major Award Announcement
We had a pleasant night (our final stop before our UK visit in March). Beez Neez is in slip B73 - just one along from last April. Yesterday a rare occurrence, it rained all day, big dollopy drops, so we stayed in watched movies (used to be films but I'm slowly slipping over. BOOees is now quite normal out of my lips instead of buoys) and played, mostly with me be slaughtered at backgammon.
Today, fine and hot, we decided to go for a late bimble after Bear went for a dip under the girl as I was convinced we had left with something dangling from the girl in St Augustine. He confirmed something had been there and before it 'abandoned us' had rubbed a line of anti-fouling off one side of the rudder, the experience and caused him to lose his screwdriver. Hot showers to follow then we walked to the bus stop. En route we passed one of the towns many ponds. A chap you wouldn't enter for any beauty contest was scratching around, as he stepped in a deeper bit than he'd anticipated he did actually show a little bit of pretty wing. OK I was just trying to find him a redeeming feature.
The white 'scarlet' ibis as I call them was quite handsome with a grackle friend. A lad was drying his enormous cast net, giving a view of the town
The marina timetable has changed, no bus, so across the road for lunch in KFC – way too convenient. A squirrel outside amused us with his bike riding antics. Then a wander.
A nicely presented storm drain. Bear liked the view through the trees of the road rising in the middle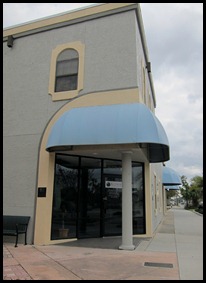 The brick building on the left housed Titusville's first bank. Captain James Pritchard organised the institution, serving as its president for over twenty years. In December 1928, the bank closed, a victim of uncollected loans made during the land boom years and worsening economic times. The building then became home to the Davis Drug Store, now the Southern Rise Lounge and Package Bar.
The building on the right was E.L. Brady & Brother Grocery 1886-1945. Edward L. Brady operated a small grocery store at LaGrange from 1880 to 1886. With the completion of the Jacksonville, Tampa & Key Railroad spur reaching Titusville, and the promise of the town becoming the "centre of commerce", E.L. and his brother, Louis A., decided to relocate their grocery business. In 1886 they moved to a wooden building on the southeast corner of Main Street and Washington Avenue. After operating there for nearly nine years, the building was destroyed by the 1895 city fire. Shortly after the fire the Brady brothers built a new two-story brick building on this, the southeast corner of Julia Street and this became the new home for the grocery store. Newspaper ads stated that they were dealers in groceries, grain, hay and all food products, handled produce of all kinds and were agents for MAPS fertilisers. Delivery service was also offered. Edward moved to Miami in 1896 and opened E.L.Brady & Co. Louis continued to manage their store here. In 1918 E.L. sold out his stock and dissolved his Miami business. He returned to Titusville to devote more time to his groves and personal interests and sold his shares to his brother. The shop continued here until the property was sold in 1945.
At the west-end of Julia Street, the passenger depot for Henry Flagler's Florida East Coast Railway was constructed in 1893. Julia Street was one of the first streets to be paved with oyster shells, and it was proposed that's its name be changed to Flagler Street (after our new friend). The railway line soon proceeded south, and so did the renaming idea.
Pritchard House just across the road. Captain James Pritchard bought a lot from Mary Titus, and in the spring of 1891 contracted Pleasant J. Hall, who had built St Gabriel's Episcopal Church, to build a Queen Anne style house of heart pine. It appears today much like it did then. As well as running the bank across the street Pritchard organised in 1890, the first generating plant in the town – later sold to Florida Power and Light Co., and owned James Pritchard and Son Hardware Store. Pritchard family members lived continuously in the house, until it was purchased by Brevard County in May 2005. Not much of a history for a city but not much happened until Kennedy Space Centre was built over the way. Now there are to be no more manned space launches, just a few satellites, so we guess not much will happen in the future, judging by the businesses along the road the decline is present.
This little business caught my eye at 805 South Washington Avenue, Titusville, Florida 32780. Would it be fair to mention that modest and sympathetic restoration may be required.
Property Overview: Charming office building right on U.S.1 in downtown Titusville. Part of the historical registry. Everything has been updated buy kept with the original style. Spanish style with maroon awnings. Reception area with 5 other offices. Lots of oak cabinetry. Office is wired for computer networking. Will also lease building for $1000. Total Square Footage: 1,208
Tax Details: Tax ID: 22-35-03-51-00000.0-000B.03. Tax Year: 2010. Tax Amount: $1,719.64
$114,900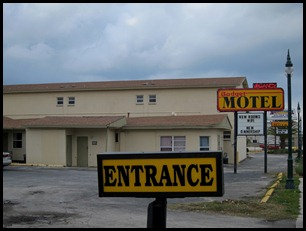 Next was a motel, the likes of which you see CSI Grissom and Co turn up when the manager calls them in "cos there's a body in 112". We saw the spare mattresses in the window. Bear sat and asked me to take a good look at the pool. The standard of the asphalt is on a par to that all over the town.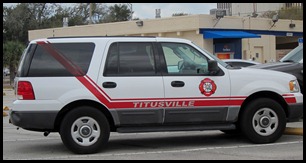 A spares shop, another couple of businesses for sale or lease, a restaurant and a police car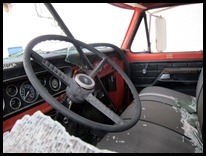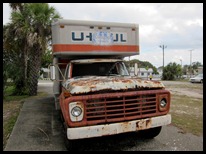 Another quality motel, with free wi-fi and vacancies...... A nomination for the you know what award
A real gem that Bear particularly loved the cactus with its own air-con
At this point we saw a bus on the corner waiting at the traffic lights. The driver very kindly let us on, we said we would love to do a full circuit with him as tourists, he charged us a dollar each and we settled for the next ninety minutes. We saw the huge sprawl of the town (I keep calling it a town, because it really doesn't feel like a city, but it is). We passed many sad houses, especially the 'assisted living' places, at no point did we see a parsey pad or anything near it. We remembered Ace Hardware, Sears, Publix and many other stores, most in their own huge lots.
Now I have slept on it, discussed it with Bear and come to a momentous decision – a first in fact. Don't get me wrong, we love the easy atmosphere, the town is handy for anything we need, the bus service brilliant, the people really friendly and helpful. So it is with no frivolity I announce the all in all........
ALL IN ALL PRESENTED TO THE WHOLE TOWN – THE ONE CAREFUL OWNER AWARD
---