La Merced Convent

Beez Neez
Skipper and First Mate Millard (Big Bear and Pepe)
Sun 29 Jul 2012 22:37
The Ruins of La Merced Convent
We paid our forty one pence entry through the arches to the left of the church
Then through the massive doors
We passed the original door to the church and found ourselves in a long passageway - to the left........
...........the enormous Fuento de Pescados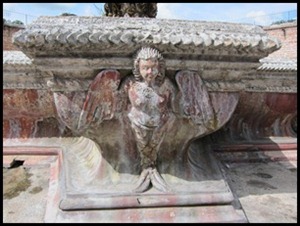 Just some of the detail
The
Mercedarians
were the first to establish a male monastery at the former Santiago de Guatemala.
The monastery was totally destroyed by the Santa Marta quakes, and never rebuilt. Within the ruined cloister stands the Fuento de Pescados (Fountain of the Fish), reputedly named for the fish-breeding experiments done there by the Mercedarian brothers, is the largest of Antigua's many fountains, with a diameter of over eighty feet.
We bimbled up the staircase and could imagine how grand it would have been in its heyday. From the top we began to get a feel of just how huge this building was.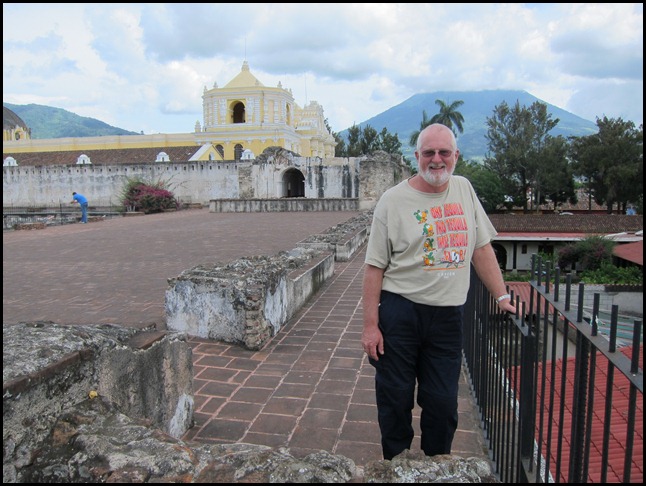 Bear with La Merced Church behind, over the fence he is holding we could see..............
.............into our school and a few doors down another school with what looks like garden sheds ???
The 'garden sheds' turned out to be tuition rooms. We don't fancy those one bit, (where we are at Don Pedro's we may have our own tutors but at least we can see each other). However hot must these cubby-holes get when the sun is blazing, and let's not think about the mosquitos. One benefit – their garden has huge avocadoes and oranges.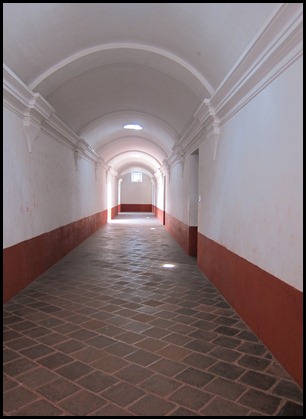 We bimbled through an archway and found a very smart hallway with several well appointed classrooms. Must find out who uses them.
Some of the views
I got Bear to nip down and from this angle it's easier to get an idea of the size of this spectacular fountain which was constructed in the 18th century and partially restored in 1944.
Back down the stairs and out – time to go and look in the church
ALL IN ALL JUST MASSIVE
PRETTY GOOD SHAPE CONSIDERING
.
---