Hellcat Snorkel

Beez Neez
Skipper and First Mate Millard (Big Bear and Pepe)
Sat 12 Sep 2015 22:57
Grumman Hellcat Snorkel
We all remember the excitement of the sticking and gluing our Matchbox models, how many of us got our first whiff of Airfix glue and in our innocence didn't realise that in later life we would read about such things as plastic bags, sniffers and abusers.......moving on. The pilot of the Grumman Hellcat we set out to see today, would have seen a similar sight to the one above as he flew away from his carrier, he ran out of fuel and crash landed on the reef, now what remains of the wreckage is the subject of our search.
After a couple of false starts we made it to Spitfire Lagoon. Oh my, we looked left and right. Where on earth would the remaining bits be in this huge lagoon. Needle in a haystack sprang to mind. Undaunted and with a positive feeling Bear said he would wade out right in the direction of the buoy – seen as a tiny dot, there is one near the horizon too. I would head out to the stick near the horizon and work toward Bear. Plan, how we love a good plan – pop a tail on it and call it a weasel.

I set off, Bear to my right.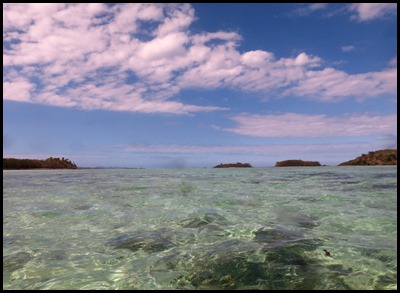 Half an hour later, we were still in thigh-deep, clear, warm water – carefully stepping between the coral heads. Great excitement as Bear had struck gold, he had found the wreck on the second buoy in about twenty feet of water. I waded toward him and then swam the rest of the way. It really is exciting when through the surroundings something interesting comes into view.
We first saw the front end, then a bit of body.
Looking toward the nose.
Sadly, all that is left. Some years ago divers came and ransacked the plane, taking off instruments, weapons etc, what remains is slowly breaking up.
Who is that person in the picture – at least it proves that we were there.
Moving toward the back.
The tail section.
We spent twenty minutes or so swimming up and down the plane, looking at the residents.
On our way back to the beach we found the coral very different to 'our side'. Spongy mostly.
Grass that looked like Mickey Mouse's ears and hyacinth lookalikes.
The star of our snorkel.
ALL IN ALL THRILLED TO HAVE FOUND THE 'SPITFIRE'
AN AWESOME FIND
---