Hoi An Night Market

Beez Neez now Chy Whella
Big Bear and Pepe Millard
Fri 5 Jan 2018 23:57
Hoi An Night Market
After exploring Old Town, we made our way back over the bridge to 'our side'.
Dozens and dozens of eateries, all offering similar food from Chinese, Vietnamese, Pizza and the odd burger all had whippets outside trying to get us to take a seat, enjoy Happy Hour interspersed with massage parlours and all that goes on in those establishments. The riverside did get prettier as all the lanterns began to be lit.
Our fancy hadn't yet been arrested enough to stop, so we headed down a side street, drooled at the pile of teak and took in the fantastic aroma of fresh-sawn wood. On we went to the end of the road, passing quaint little home-stays and tiny hotels.
Even the simplest of things here can be colourful.
We turned left at the end of the street and found ourselves in the busy night market, all lit and ready for heavy bartering.
Now this lady had the knack and soon we were settling in the Red Gecko. Our thirty five year old waitress who looked about nine (probably owner) had us around her thumb. Once seated we were fair game to the mobile sellers, this lady selling fruit. Bear took it all in his stride as he sipped his Japanese Sling.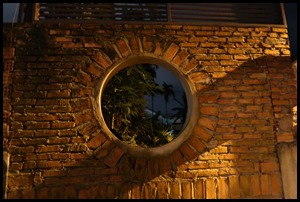 We thoroughly enjoyed our supper and took side streets back to the river to see it in the dark.
Possibly our final Christmas decorations for this year.
We took in the river and many floating lanterns.
Back to our digs.
Wish the lone chap at the bottom of the stairs had some weed to hide in and scruff about a bit. All quiet at the pool. A lovely wall frieze on our landing, time for a film or two after a long soak in the full-sized bath.
ALL IN ALL LOVELY FOOD, GREAT ATMOSPHERE
GOOD TO BE IN THE HUSTLE AND BUSTLE
---