To S. Koh Yao Yai

Beez Neez now Chy Whella
Big Bear and Pepe Millard
Wed 25 Jan 2017 23:47
To South Koh Yao Yai
We left the already busy Maya Bay at 09:30 for the seventeen mile journey to South Koh Yao Yai. Out in the islands of the bay – this time really short ones, not a hong or stack in sight. We even had enough wind to put the genoa out.
Second Mate Al on duty.
Half way to Yai Bear slowed down and changed course, a big ferry full of tourists saw us as a target for fun. He sped up, changed his course and came at us. One enormous bow wave hit us hard at the front sending half a ton of water all over us........... Bad words were thought and a few were said out loud...........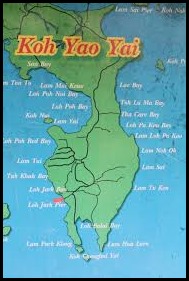 A pretty little anchorage just inside the horseshoe on the right hand side.
All to ourselves, we went for a snorkel then played Mexican train dominoes.
Sundowners with a real sunset. One yacht joined us – a fair way off though.
The sky went like an oil painting.
Then soft pinks.
Splashed colour.
Smoky looking pink.
Fiery pinks.
ALL IN ALL A GOOD JOURNEY EXCEPT FOR ONE WAVE.........
A LOVELY DAY, SHAME ABOUT THE ONE DICK.....
---