MOTH and Those

Beez Neez now Chy Whella
Big Bear and Pepe Millard
Mon 24 Mar 2014 23:57
Moth and Those 'You Know What's'
Well, as expected, Biaga had been told of our imminent arrival and promptly sat on guard. Racing to the car wanting the toy we always bring, this time a corduroy thing with a squeaker, off she went with it, a smile on her face.
Within minutes we had been acquainted with Cicci, the smaller example but equally as waggy. She went off with her Beez Neez coloured, intertwined chewy rings. All well and the Mistress Of The House put the kettle on, perhaps a little early to pour a libation.
The well stocked bar was ready for later.............
Our bedroom door made us laugh and told that we had come 'from down there'.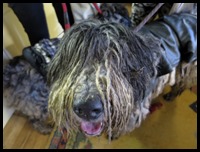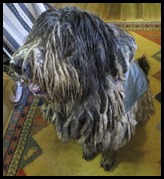 Sue, the dog walker arrived in the pouring rain, off the pair went in their smart raincoats.
They of course came back needing their feet wiped. Then waited patiently for Sue to dish out their treats.
Big girl knows I always sit on the left of the settee, as soon as I set off in that direction, she leapt into position. This gave a few minutes to Cicci to get hold of Biaga's new toy. "Oh she won't hurt it or destroy it". Famous last words. Within a few minutes the squeaker was naked and a pile of stuffing followed quite quickly after. The Beez Neez coloured toy had a similar fate. I wondered if the mat from South Africa knew what kind of life it was in for with these two creatures....................
Moth and Cicci. Don't dare let me hear words like cute, cuddly or arrrr, they don't fit.
Meanwhile, I bodily hoofed Biaga to the other end of the settee and got my face well and truly washed.
Moth did her piano practice and Bear was enjoying reading when he had a visit for a cuddle from Cicci........
............ then an ear full of hair to tell mum she had done well.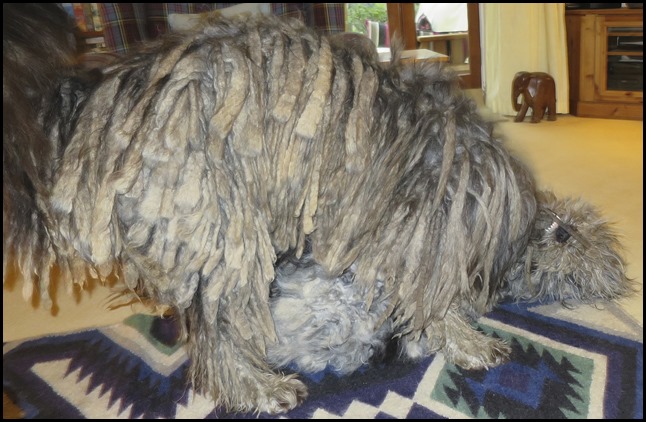 An amusing scrap, difficult to see where one begins and the other starts.
"Oh, little one won't jump on the bed." The second time today I thought yeah, right. Cicci took off from the bedroom door and flew, legs akimbo, like a furry fruit bat. Beds had a conniption and snuggled against Bear for protection. For many years he has had a love hate thing going with Biaga. She loves him and he hates her...........now he has to contend with twice the trouble. "Oh, you can have a nice holiday here." Third time I thought yeah, right. There would be more peace in an a lunatic asylum.......
Meantime Biaga had a good rummage in my case. Par normal then.........
ALL IN ALL A VERY DIFFERENT KIND OF 'HOLIDAY'
---