Pokhara Peace Pagoda

Beez Neez now Chy Whella
Big Bear and Pepe Millard
Thu 5 Apr 2018 22:57
The World Peace Pagoda, Pokhara
We left our digs for the twenty minute walk to the pagoda. Lovely views over the lake as we rounded the corner and then terracing as we went down a fair few steps.
Another lot of steps and there it was. Just a path to follow to reach the far side then up some more steps to the World Peace Pagoda, Pokhara.
We took a breather whilst we did a spot of ant watching.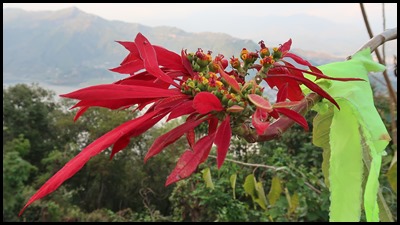 Through the gate, up some steps and a native poinsettia.
At the far corner from the entrance was the Japanese Temple, just as we passed a lady monk struck the drum and began chanting. We listened for a while before heading up to the main level.
A lovely picture, a chap we don't know and a colourful garden.
After reading some profound words, we turned..........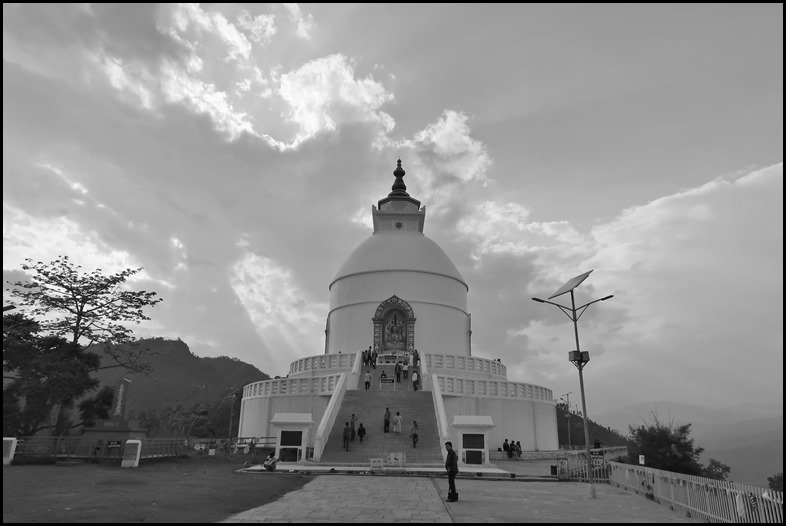 The World Peace Pagoda here in Pokhara, also known as Shanti Stupa was the first to be built in Nepal and the world's seventy-first to be built by Nipponzan-Myohoji.
115 feet in height and 344 feet in diameter, the white, two-tiered stupa is set high above Lake Phewa (Fewa) at 1100 metres on the Ananda Hill, the other side of the hill from our digs.
Bimbling around the second tier we passed four statues of the Buddha presented as a souvenirs from different countries: 'Dharmacakra Mudra' from Japan, 'Bodh Gaya' from Sri Lanka, 'Kushinagar' from Thailand and Lumbini from Nepal. Each statue represents important events related to the Buddha and were named according to where they took place. Dharmachakra is placed below the gajur (pinnacle) which signifies the wheel of life, dharma and the teachings of the Buddha. The top of the golden gajur holds the crystal stone from Sri Lanka which symbolises intellect and grace.
We both posed with Buddha.
It would help quite a bit if we understood what the plaque meant..... Isipatana: At present it is named as Sarnath. It is situated near the most ancient city of Varnasi. Here the perfectly self enlightened Buddha had turned the wheel of the Dhamma giving his first sermon to the five gentle ascetic Brahmin group. The obe of the third holiest sacred places of the worldly people to arouse the highly emotional Dhamma urgency to generate powerful meritorious feeling to get rid of worldly suffering.
This symbol of the Buddha turning the wheel of the Dhamma as the first sermon.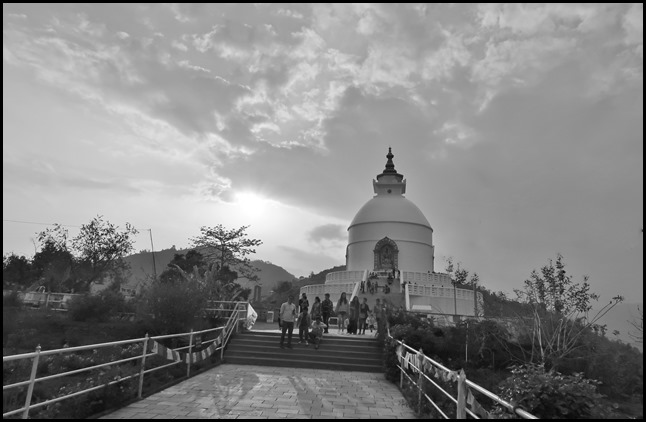 We sat and enjoyed cloud and crowd watching for a time.
The sun made for a pretty sky.
We enjoyed the valley views.
Then we set off on the return bimble to our digs.
ALL IN ALL CLEAN LINES BUT TOO MUCH NOISE TO FEEL SPECIAL
FABULOUS VIEWS FROM A PRETTY STUPA
---