Getting to Nine Arch Bridge

Beez Neez now Chy Whella
Big Bear and Pepe Millard
Sun 17 Mar 2019 23:47
En Route to Nine Arch Bridge, Demodara near Ella, Sri Lanka
We left the tea plantation at Little Adam's Peak, walked down to the main road, turned right, bimbled up a steep hill and turned left at a pretty little shrine.
Down the track from the shrine a couple of flowers and a lake.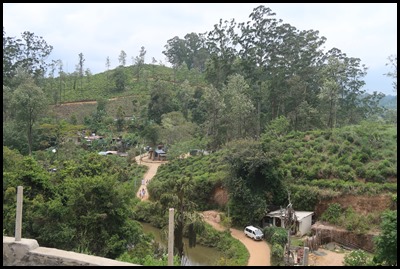 Up again and looking over the next bit which includes the track in the far distance. At the top of the next hill we found a posh hotel and went in for a cold drink.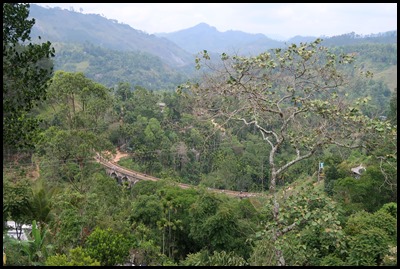 From the hotel balcony we could see our target way below. As I sipped my chocolate milkshake, another first, a lady was pressing towels behind me in the restaurant of said posh hotel......
Along a path, down a track and a cheeky beast of a hill.
Nothing too amazing about this little juice stall until we looked back at it from down the next down bit.
Spot the house on the hill, then in close up.
Loved the pretend grass of a tuktuk we passed, how it got there ??? The next bit.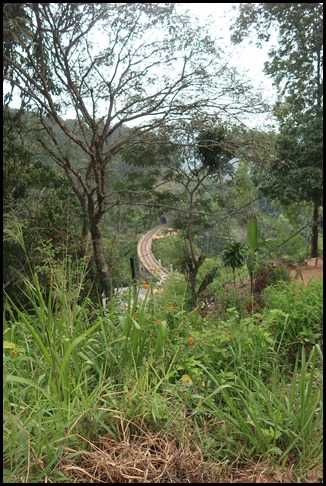 Are we any closer yet ???? Errrr no.
Favourite tuck shop, there is actually a man serving in there.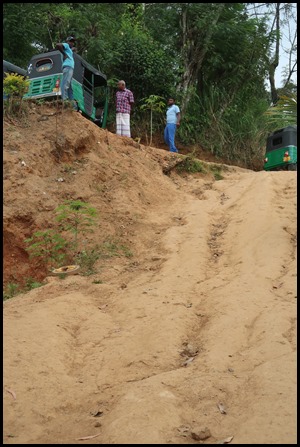 Even the bravest tuktuk men have to give up now and wait. Bear shows the way and looking back up at the next bit.
The next chunk.
Delighted my flip flops are holding to their 4x4 reputation and YAY the bridge is getting closer.
Someone has thoughtfully used tyres to help. Oooo that's steep.
Not a bit sorry that trek is over and we finally reach the bridge. We don't have to go back that way, we can walk along the track, it's only a mile and a half back to Ella. Wish I'd have known that and done exactly that both ways. Even if you sponsored me a lot of money would I have gone back that way. I would happily have walked to the next village and caught the dodgiest of buses.
ALL IN ALL WHAT A TRAMP
MOUNTAINEERING AT ITS BEST.....
---