Hartpury Churchyard

Beez Neez
Skipper and First Mate Millard (Big Bear and Pepe)
Tue 25 May 2010 22:01
Hartpury Churchyard
Hartpury's churchyard has always been lovingly cared for by the villagers and a maintenance fund existed by 1910. The annual costs – then only three pounds – were defrayed by subscription, sale of grass and "breaking of ground" fees. It was then rare to visit the churchyard without finding someone at work and tales are still told of cider and fruit cake provided by the churchwardens. Costs though, continued to rise and by 2004 amounted to one thousand six hundred pounds. The Parochial Church Council now strives meet the increasing gap between income and the costs of maintenance.
Seen at the bottom of the photo above is the signs to the Bee Shelter - our real reason for being here - that is until we got fascinated
The churchyard is a haven for wildlife in a time of changing agricultural practice. Rare local varieties of fruit trees, particularly the perry pears, have been planted around the churchyard. Their blossom and fruit are already benefitting wildlife. Graves are regularly visited, but in some parts the mowing regime has been relaxed to allow the grass to grow benefitting insects and allowing wild flowers to set their seeds. A survey of the lichens in the churchyard has been carried out and their continuing wellbeing is to be monitored. Generally headstones and the lichen growth on them are left untouched, being part of the charm of the churchyard. Lichen are primitive organisms composed of an alga and a fungus living together. Some grow very slowly, only a half a millimeter a year and may be as old as the gravestone they are growing on. The sandstone memorial to Joseph Goodwin has at least nine different species living and growing on it. If the gravestone had been limestone it would have just as many but from a different range of species. One collapsed stone however, has been reset so that the inscription is again visible and the oldest surviving lower lias headstone has been restored.
The PCC has rescued and rebuilt three table tombs that were in a state of collapse and, adopting a policy of timely but minimal intervention, has always conserved the listed Sloper chest tomb. The work of the craftsmen who carved the ancient headstones is one of the joys of a country churchyard, but the loss of traditional skills has in recent years led to a monotonous flow of unimaginative lettering carved on predecorated, mass produced stones. The use of local stone has declined due to the comparative cheapness of imported stone. This has led to the diocese prohibiting the use of marble and granite and severely restricting the installation of figures of angels, crosses and kerbing.
The 2001 edition of The Churchyard Handbook is far more positive than its predecessors in its encouragement of initiative in the commissioning of memorials. It states "It must be admitted that efforts to avoid the restless and discordant effect of inappropriately shaped and sized stones can result in uniform rows of very similar headstones, lacking the character of earlier memorials. There is much to be said for encouraging variety, as long as the emphasis remains on quality". It asked those responsible for churchyards to welcome creative and individual designs.
May the memorial be worthy of the life it celebrates!
Although the idea of marking a grave with a headstone dated from the Celtic and Roman period, in medieval times individual stones or monuments were rare. The move to erect personal memorials began after the Restoration, when the developing middle class of the yeoman farmer, lawyer, merchant and master craftsman felt the need to commemorate their lives and achievements.
The headstone and a smaller footstone were placed at either end of the grave although many footstones have been removed over the years to make the maintenance of a churchyard easier. The earliest stones were usually quite simple, carved on one side of a thick piece of stone with a sunken panel containing the inscription. As well as headstones, flat horizontal or "ledgers" are also found. The ledger was sometimes raised on brick or stone walls thus becoming a chest or table tomb, with the memorial to one or more members of a family often embellished with symbolic decoration carved on its sides.
Most of the early tombstones here are either Cotswold limestone, grey pennant sandstone from the Forest of Dean (often appearing green due to lichen growth), or Old Red sandstone from the Herefordshire borders, but there is one early one (John Fletcher 1710) of lower lias limestone "mudstone". This probably came from the local Hartpury quarries on Woolridge. Even though its condition was very poor, the decision was taken to restore it as part of the village's heritage. The stone bears the inscription:
"Death in a very good old age did end my weary pilgrimage
And was to me an ease from paine and entrance into life againe"
A very good old age was also reached by the local millers son who died in 1931 aged one hundred. His death is recorded on his elder sister's stone, which carries the inscription:
"Whosoever will, let him take the water of life freely"
Whether or not the humour was intended, he certainly took the waters literally when playing as a toddler with his brother near the mill pond. They fell in and were only kept afloat by the skirts young boys wore at that time.
It is surprising how many of the epitaphs found on 18th century graves appear again and again with only minor variations all over the country. One source would have been the travelling peddler who sold songs and verses suitable for any occasion.
At Hartpury the ancestors seemed to take delight in reminding us of our mortality as well as the records of suffering:
Remember man that thou must die
As thou art now so once was I
As I am now so shalt thou be
Prepare thyself to follow me 1747
All men are mortall all are born to die
Death all conducts into eternity.
Farwel dear friends don't for ye love complain
We part a while but soon shall meet again 1766
All you that come our grave to see
Prepare yourselves to follow we
Repent in time no gold can save
Not youth or old age from the grave 1797
All you that pass this way alone
Pray think how soon I was gone
Death does not always warning give
Therefore be careful how you live 1803
I was so long with pain oppressed
Which wore my strength away
And made me long for endless rest
That never can decay 1819
Long nights and days I bore great pain
Physicians tried but all in vain
Till God at last did think it best
To ease my pain and give me rest 1916
It is amazing to still be able to read these inscriptions after so many years – a tribute to the skill of the masons who combined this work with their day jobs.
I wonder if they would approve, I told you I was ill, in this churchyard so inspiring us to be creative and inspiring.
This unusual Grade II listed stone chest tomb of lawyer Thomas Soper who died in 1703. The reclining effigy is likely to be of his wife Joane who died in 1676, making it a very early example to be found outside (not in a church). Although it is very worn, it is amazing that it has survived for so long, no doubt due to the yew tree that now disturbs the foundations. The monument was sensitively restored in 2003 by one of the country's leading stonemasons Rory Young.
Headstones only started to appear in the churchyard after the restoration of King Charles in 1660. The symbolism on them was as important as the lettering in a largely illiterate community; the death's head showing the body's decay and the winged cherub spiriting the soul to heaven.
One of the best known of Hartpury's headstones records the death of John Hale, a blacksmith, who was crushed by a bell in 1692 of Newent Church.
Loe here's interred the Muses Passive Friend;
Their Noblest Science (Ringing) was his End.
His Actions Just, a Martyr of that Skill,
Crusht by A Bell twas Heaven's Sacred Will.
Melodious Bells delighting him on Earth
Exchang'd Terrestriall for Celestiall Mirth
This fatal Stroke in haste did stop his Breath
Lamented was his Unexpected Death.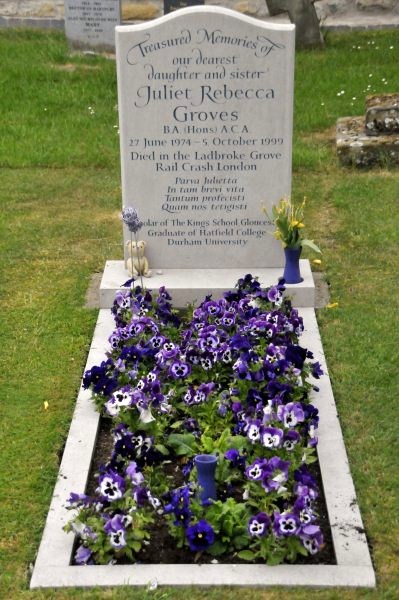 It is always desperately sad to see the grave of a young person, especially taken tragically - but at least Juliet's is beautifully kept and the grass short
Again the graves of Melanie, Luie and Emma are so very loved and well tended. Beatrix Potter's 'Tailor of Gloucester' was based on a real tailor John Pritchard, who married Martha daughter of Evan and Eleanor Williams. Evan and Eleanor lie in this churchyard.
Bear with some of the trimmed yew trees behind him. The millennium was marked by the planting of a yew tree cutting taken from a tree that was over a thousand years old, joining the forty four other yews in the churchyard.
The cross only became a common feature in English churchyards during the Victorian era. Before it was regarded as 'popish'.
In the church porch was an excellent plan of the churchyard (and a booklet we bought) with lists of people buried here
Even two Millard's are here - John and Lydia
ALL IN ALL A FASCINATING, WELL LOVED AND MAINTAINED PLACE OF PEACE
VERY PRETTY AND VERY INTERESTING
---