Biaga Special

Beez Neez
Skipper and First Mate Millard (Big Bear and Pepe)
Sat 15 May 2010 22:49
Biaga at the Gables Cats and Dog Home - Dog Show
Chris told us we were going to a dog show on Saturday morning, so Friday night was prep night. Under instruction I learnt how to trim each flock and was put in charge of port side
Nearly done - time for a hug
Saturday morning came with full sunshine. A bumble bee had spent the night in the conservatory and needed sugar water to revive it - then it was off to the show
Biaga meeting a fellow contestant
A lovely shot of Biaga and her mistress, the photographer wanted me in a shot as my hair looked in keeping
A nice stance. Waiting patiently for the show to begin
A practice trot with Big Bear
Time for a drink and a quick fun pose.
Things hotting up
Chris leading Biaga in the show ring and checking pose
Tail correct as the judge studies the entrants
Show trot as the judge watches
Over she comes for a closer look - Oooo me nerves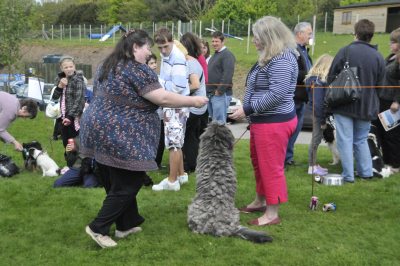 Finally it's over and the judge awards Biaga her rosette
A special award for a special dog
Mum and her star
Mum was so chuffed she went to Sainsbury's wearing her rosette
Chris is very patient explaining Biaga's breed, Biaga is patient to all the interest she causes and the petting. Then it was time for a bacon roll and the walk home
Back at home time to be normal dog just sniffing around
ALL IN ALL A VERY WELL DONE TO BIAGA AND A HAPPY BIRTHDAY TO BIG BEAR.
---