Haul Out

Beez Neez
Skipper and First Mate Millard (Big Bear and Pepe)
Wed 29 Jul 2009 22:25
An Anxious day for a Skipper
The day before haul out we booked to fill the fuel tanks up. We prefer to leave them full as less condensation occurs and with full water tanks Beez is a balanced girl. 10:00 time to move - NO - Bear tries to up anchor and instead pulled up an old discarded anchor covered in grime and barnacles. Laying down to the job of sorting it from us. Twenty minutes later and we were on our way to the fuel dock on Powerboats.
Bear paying his dues at the only fuel dock in Chaguaramas, contemplating the day ahead tomorrow. We went to a buoy for the night as it would be quicker to get off and be ready when the chaps at the hoist called us in. Our slot was 08:00 the next morning. As we got settled the heavens opened so hard the mountain behind us all but disappeared. Time for a game of Backgammon then.
Wednesday the 29th of July up and ready for 08:00. I had to get the girl over to the left of the slip and we got off, eager to see her safely propped up on the hard. The boys then pulled the ropes to get her dead centre of the slip. Roger trotted down to the waters edge, Bear seen trotting ahead trying to keep busy and out of everyone's way. Roger in the water. Beez Neez has lifting makers but nonetheless Roger always positions the strops by diving below each and every boat and catamaran.
Roger happy with his position. Lads happy with Beez and Roger giving me a wave.
The moment you see your boat dangling is the moment I always remember the sick feeling when the children took there first journey up the BIG slide steps. Each and every one of them stopped at the top, let go with one hand and waved. Always a moment of sheer helplessness. Beez over the ground to have the initial scrape. I was very impressed and so was the lads at how clean she was, testament to Bears scraping ability in Jolly Harbour, but the backs of his hands still show the battle wounds inflicted by the various mussels, barnacles and hangers on. Couldn't resist this one ladies, Roger getting rid of the salt water, had he have needed help I would have been over there like a shot.
Time for Nigel to give it some welly with the power hose.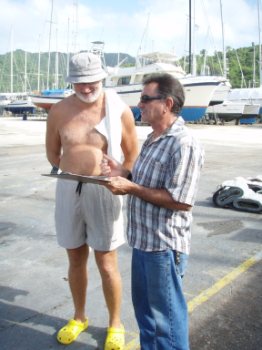 Enter Michael with his Gizmo. Blues and I had been chatting about where we could end up. He went over to talk to Michael, Bear still wandering around aimlessly until the site manager got hold of him to talk about bottoms. Nigel moving one of the strops away from the Gizmo hand.
One of the lads Andy was telling me that he had worked for Peakes for the last fifteen years and Michael had been there some time longer. He is a legend in these parts. He can get ANY size boat into places others are amazed at and once in place others never believe it possible to get the boat back out, Michael can. Bear discussing engines, oil filters and oil changes with Sam the engine man.
Final tweaks, second strop out. Final clean where strops had been on Beez
Off Beez trots and I mean trot, we had to rush to keep up.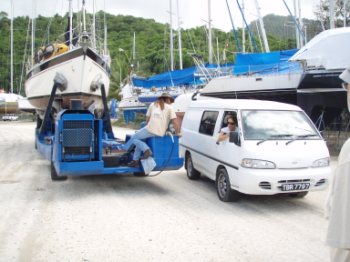 Michael stops for a chat to one of the ladies, funny when I indicate 'one' on my fingers I use my index finger not the middle one, maybe it's different here in Trinidad. But indicating 'two' was just the same as anywhere else. Off we go again. This time Michael gets off to go and chat, must be someone important, just as well as it gave us time to catch up..
Beez backing in to her new home. Chocks fixed by Al. Blues painted grease on to the top of the chocks, this stops the ants getting aboard.
All settled
We threw loads of 'stuff' down to the boys to take to our store, the idea being we would have room to manoeuvre on board. First load going off. The boats opposite have been shrink wrapped for the season to protect them from wind and rain while their owners are away. The silver estate car is parked outside Peakes Chandlery, very handy. To the right is the internet cafe that sells yummy little lunch size pizza, beef patties and hot dogs, as well as sweets, crisps and internet tickets for wi-fi use. Peakes does have wi-fi for it's clients but we are too far back from the aerial here. We get it free at the Loggerhead Bar - good excuse for a shandy.
Beez ready for bed with her covers on
ALL IN ALL TIME FOR BED SAID ZEBEDEE - NIGHT NIGHT EVERYBODY SAID ANDY PANDY - I'M SHATTERED SAID BEAR.
---